You Will Need:
Materials:

Copy Paper
Drawing Materials
Erasers
Watercolors
Brushes
Water pan
How to:
After selecting a theme and doing the research, you're ready to design the stamp. You can help save natural resources, landfill space, and energy by thoughtfully choosing art materials. Using recycled paper or the backside of a used sheet of paper, click on this link, postage stamp template, to print a blank stamp. Once the image appears send it to your printer.
Postage stamp design is a very specialized field which challenges the artist to depict an image and convey other information in a very small area. While you're free to draw and letter any way you wish, there are some basic elements which must be present on the stamp. Be sure to include at least the following information: USA, 44, the name of the person, place or event, and the image.
Now draw your design with colored pencils, pen and ink, or markers, or paint the picture with watercolors. Outline the image with a black marker to make it more distinctive.
Tips and Tricks:
While it's not necessary for our purposes to strictly follow them, you may be interested in knowing the Criteria for Stamp Subject Selection. These guidelines are used in selecting subjects which are eligible to appear on U.S. postage stamps.
Instead of drawing on recycled or the unused side of ordinary copy paper, substitute kenaf, an environmentally-friendly material. See "Draw on Kenaf" listed under the Drawing category in Previous Activities to learn more about this alternative to conventional paper.
Study lettering in magazine and newspaper ads, and notice how important the styles are in conveying messages. Keep your lettering simple and uniform. Remember to capitalize proper names, and try not to mix lower and upper case letters within a name or word.
Visit the United States Postal Service Web site to learn more about the variety of stamps available and how to start a stamp collection. While you're there, you can vote on the newest designs, and you can even order stamps online!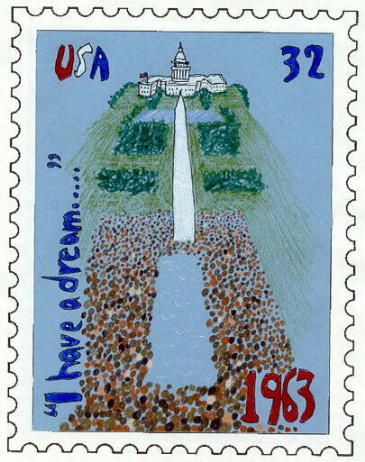 Some people buy special postage stamps called commemorative stamps, because they make their personal correspondence more distinctive and colorful. Others use them to honor people, places, or events, or they like to support the causes represented on the stamps. Since February is Black History Month, we'll celebrate by designing commemorative postage stamps in honor of the contributions of black Americans and the important events associated with their history.
In 1940, the image of Booker T. Washington, an educator, was depicted on the first stamp issued in honor of a black American. Since that time, many others have been honored for their important contributions in fields such as civil rights, science, medicine, sports, art, and music. Some of them include Harriet Tubman, abolitionist; Billie Holiday, jazz singer; Ralph Bunche, statesman and Nobel Peace Prize recipient; Martin Luther King, Jr., minister and civil rights activist; Jackie Robinson, baseball player, and Madam C.J. Walker, entrepreneur.
The designers who create the art and lettering for postage stamps show their work in an international gallery, of sorts. Although their finished art appears much smaller than the originals, their works travel to countries all over the world in the form of stamps. In addition, millions of people collect the little masterpieces in stamp albums. Imagine how exciting it must be to know that a world-wide audience can see your drawings or paintings! Now imagine that you're an artist who has been selected to design a new postage stamp honoring a black American or an important event or place. Who or what will you draw or paint?
Before you begin your work, you'll need to gather information. There are many excellent Web sites featuring the significant events and accomplishments of black Americans. Visit the Black History section at the National Archives for links to help you research your subject. Also, The Black Experience: African-Americans on Stamps is an excellent site featuring biographies and stamp images of black Americans who have appeared on United States postage stamps.