Creative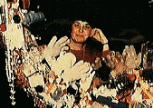 Encouraging others to enjoy and create art has been the focus of Marilyn Brackney's career as an artist and teacher. In 1996 she expanded her classroom by launching The Imagination Factory on the Internet. The purpose of the site is to teach reuse and recycling concepts through art activities using solid waste as a source of free materials. The Factory is recommended by the project team at EE-Link, the University of Michigan's environmental Web site for educators, and it was listed in the Yahoo! Internet Life as one of the best arts and crafts Web sites for kids.
Earth Day Inspired the Artist/Teacher
Brackney points out that while more and more people are jumping on the environmental bandwagon, artists and teachers were reusing and recycling long before they became the right things to do. As a public school art teacher, she often used solid waste such as cardboard, plastics, and newspapers when she had no funds to buy conventional materials. Brackney created special art activities for the first Earth Day in 1970, and she began reminding students that they were reusing materials when they made art from solid waste. When the twentieth anniversary of Earth Day rekindled worldwide interest in environmental issues, it occurred to her that she could use her teaching methods to increase awareness of the solid waste problem and to encourage recycling.
The Success of Brackney's Environmental Work
To date, her art/recycling message has been very effective. In the fall of 1992, she received a grant to create and produce a television series for children advancing the notion of making art with solid waste materials. At about the same time, Brackney created a dinosaur sculpture almost from solid waste. The following spring, she was invited to display the dinosaur, known as Trashasaurus Rex, at the first Kids' World Conference on the Environment held at the Nickelodeon Television Studios in Orlando, Florida, where she taught attendees how to use solid waste to make art and crafts.
Honors and Awards
The artist/teacher was named the Indiana winner of the Environmental Woman of Action Award in April 1993, and she traveled to Washington, D.C. to receive the honor acknowledging her creative approach to recycling. In addition, Brackney has received national recognition from the Environmental Protection Agency for her work on behalf of the environment, and her Web site has won numerous awards. Besides creating art activities for The Imagination Factory, she is a guest writer at a number of other Web sites. In 1996 Brackney collaborated with students and staff at MidLink Magazine to challenge kids all over the world to create their own solid waste sculptures like Trashasaurus.
Educational Background
Brackney received a Bachelor of Science Degree in art education and a Master's Degree in psychology from Indiana State University . She has taught art in the public schools at all levels, and she currently teaches private classes in her studio. Brackney is active in environmental organizations in her community and state, teaching her art/reuse and recycling methods and donating artwork to worthy causes. In addition, she creates educational products such as board games and architectural alphabets, and she continues to learn by attending workshops, experimenting with materials, and making art.
Making Art by Recycling and Recycling to Make Art
By hosting this site, Brackney hopes to increase awareness of our shrinking landfill space and to encourage recycling. She believes that using solid waste as art materials also accomplishes the following:
While most people think that collecting solid waste is recycling, it's only the first step in the process. Using solid waste to make art teaches kids that recycling results in the manufacture of a new product.
Recycling to make art encourages the collection of solid waste at home, and it can help change attitudes and perceptions about the quality of recycled products, in general.
Using solid waste as art materials saves landfill space and the energy and natural resources needed to produce virgin materials-in this case, art supplies.
Making art from solid waste saves money. This is especially important for schoolteachers and others working with limited resources. In addition, some of the materials which go to landfills are more interesting and are of better quality than those one can buy.
Finally, reusing and recycling to make art or crafts encourages creative thinking and problem solving. Kids are challenged when they're presented with solid waste as art materials, and making something from nothing is fun!
The Imagination Factory is located in Columbus, Indiana, an American city famous for its modern architecture and preserved older buildings. Click A Kid's Columbus to take a virtual tour. People come here from all over the world to see and study our architecture. Most of them are adults, but kids can find lots of buildings, sculpture, and other great things to see, too.
The Imagination Factory graphic was created by Susan M. Brackney, author of The Lost Soul Companion, The Not-So-Lost-Soul Companion, and The Insatiable Gardener's Guide.
© 1996-2008 Marilyn J. Brackney, All Rights Reserved
Text and images may not be copied
without permission of the author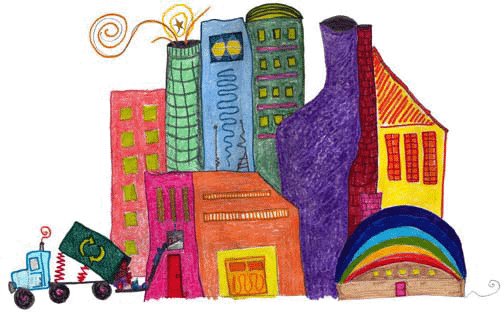 Return to Main Web Page
Previous Activities
Select this to choose other activities.