Scratch Paper Sketch Pad

Not every drawing you make will be a masterpiece. Sometimes you may like to sketch, draw cartoons, or just try out ideas on a piece of paper. You can help save trees and landfill space by using the blank side of a used piece of paper instead of a clean sheet everytime you draw. If you make a really good drawing, you can copy it or transfer it to a new piece of paper.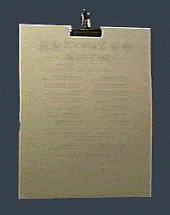 You will need:
Scratch paper
Scrap paperboard like a tablet back
Bulldog clip from the school supply section
of your supermarket or discount store
How To:
Collect scratch paper whenever and wherever you can. Good sources are your school's office, library, and classroom. Also ask people who work in businesses to save computer printout sheets for you. Watch your mailbox for flyers and direct mail offers that might otherwise end up in the trash. Cut the paper and paperboard to a uniform size, and use the bulldog clip to attach the paper to the tablet back.
Tips and Tricks:
Instead of clipping the paper to a board, keep it in a desk tray or pocket folder. If you use a folder, design a cover for it and add color with markers, colored pencils or ink.
© 1996 Marilyn J. Brackney (updated 2018)
Volume 1 No. 3


Return to Departments
Previous Activities
Select this to choose other activities.