Crack the Whip by Jo Saylors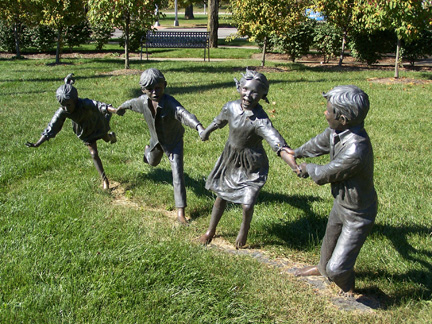 We've learned that a drawing or painting has only length and width, but a sculpture is different in that it's three-dimensional, having length, width, and depth. A statue is a sculpture that represents a person or animal. Such figures can be made in a variety of ways, including carving, modeling, and casting.
The two types of sculpture are either relief or in the round. If the statue projects from a background, such as the figures on the Arc de Triomphe, it's called a relief sculpture. However, if one can see the entire figure from all sides, the work is referred to as an in the round sculpture.
Two in the round sculptures that are popular with kids in Columbus show children at play. Puddles and Frog Pond were in front of the Bartholomew Consolidated School Corporation Administration Building. Crack the Whip is located downtown between Second and Brown Streets. Both were created by Oklahoma sculptor Jo Saylors. See updated information on Lilly and Frog Pond page.
Formerly located on the grounds which house the school adminstration building, Crack the Whip was commissioned in honor of all past, present, and future ArvinMeritor employees by Mr. and Mrs. James K. Baker. The work is an in the round sculpture cast in bronze, an alloy or combination of copper and tin. Casting metal is done by melting it and pouring the liquid metal into a mold that was created by the artist.

Ms. Saylors began creating art as a child when she sculpted figures from clay dug from creek beds in her native Tennessee. She won her first art competition at the age of twelve, and today her sculptures are found across the United States and in thirteen foreign countries. Although the artist has sculpted many wildlife and historical figures, she's most famous for her representations of children, such as those shown here.
It may surprise you to know that Ms. Saylors began her professional career creating at her kitchen table! Today she works in a well-equipped studio, which includes sculpting tools and anatomical charts that show bones and muscles. Studying the drawings helps her understand the human body, so that she can make her statues lifelike. In addition to a work space, the studio includes a gallery for displaying her sculpture.
Biographical information about Jo Saylors provided by Ponca City Information Site and the Ponca City Sculptor.
Click on the small images to see full size pictures from Crack the Whip.
© 2006 Marilyn J. Brackney (updated 2018)
All Rights Reserved
Text and images may not be used
without permission of the author.

Return to a Kids Columbus