Public Relations

The United States is quickly running out of landfill space. Hoping to make others aware of the problem, we created a dinosaur almost entirely out of postconsumer solid waste. Built over a period of eight months, the 9.5' x 11' creature's body was made of scrap lumber and chicken wire. Then it was covered with six layers of papier-mache. The beast's belly was stuffed with more than 300 plastic grocery sacks, 40 dry cleaning bags, and many polystyrene containers.
Called Trashasaurus Rex, the dinosaur is covered with hundreds, perhaps thousands, of solid waste pieces. Many of the more interesting castaways, such as broken watches and toys, were brought to us by friends and neighbors who watched as we worked on the dinosaur in our driveway during the summer of 1992.
Gluing on the solid waste was hard work, but we passed the time by combining ordinary things in a fun, playful manner. There are jokes and visual puns all over the dinosaur's body, and there is a lot of symbolism. The 50 gloves and mittens running down its back, for example, show that everyone in the United States contributes to the solid waste problem, and each of us has a responsibility to solve it
Trashasaurus Rex is The Imagination Factory's mascot. Since his completion in October, 1992, the dinosaur has made many public appearances on behalf of the environment. He rode in a parade, was displayed in an art exhibit, and helped encourage recycling at Earth Day festivities.
In 1993, Trashasaurus and Marilyn Brackney attended the first Kids' World Conference on the Environment held at the Nickelodeon Television Studios in Orlando, Florida. Those attending enjoyed looking at Trashasaurus, and Brackney taught kids how to make art by recycling. You may even catch the dinosaur on a Nickelodeon environmental public service announcement now and then!
Trashasaurus Rex Travels to East Coast
In honor of the 30th Anniversary of Earth Day, we are pleased to announce the donation of Trashasaurus Rex to the Rocky Mount Children's Museum of North Carolina. The museum, which was devastated by floods caused by Hurricane Floyd in 1999, has opened at a new site and is rebuilding its collection. Since first offering the dinosaur for adoption, we received inquiries from throughout the United States. Many requests came from solid waste facilities, parks, museums, and other educational institutions. After reading of RMCM's need to start a new museum, however, we decided that the beautiful state of North Carolina would make a good home for Trashasaurus.
Click here to learn more about Trashasaurus.
©1996-2008 Marilyn J. Brackney, All Rights Reserved
Text and images may not be copied
without permission of the author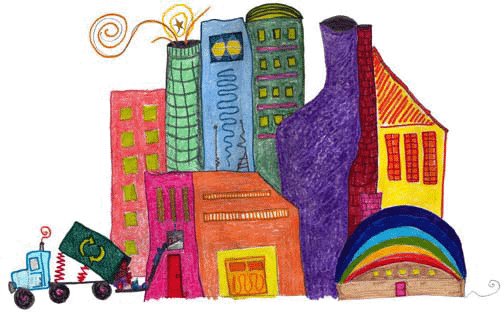 Return to Main Web Page