New in The Re-Source
With school starting again, teachers are sure to ask students to share something about their time away from the classroom. We'll link you to an Imagination Factory art/reuse activity that will help kids make a visual diary of their summer vacations.
True recycling involves processes such as shredding, grinding, or melting to make a new product, but reusing something simply means that you've found a new purpose for an item that normally would be thrown away. We discovered one art teacher from Indiana who is a true recycler, and in her feature, you'll learn more about Nicole Lewis and how she turns old crayons into new ones.
Now in its third year, the Global Cardboard Challenge encourages kids all over the world to use their imaginations to solve problems and to create with a common material-cardboard. We'll tell you a little about the project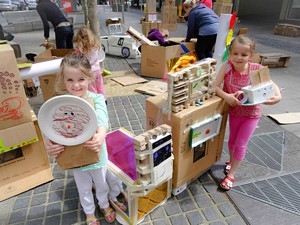 and link you to the parent organization that runs the challenge. We hope this article inspires you to join in the fun, too.
America is blessed with great beauty, but too often we litter our roads, highways, and urban areas with trash. Many years ago, we created a large version of our America the Beautiful? collage, and now we're challenging you to work an online puzzle that was made using the image. Good luck!
Reena Kazmann hosts a website called Eco-Artware, and she's constantly on the lookout for resources and ways to help others live a more sustainable and environmentally friendly life. Searching the Internet for items of interest, she links them on her site, and we'll share some of her resources with you.
Finally, in the Leftovers section, we'll show you how to keep yarn from tangling by reusing a common, household container, and giving it a new purpose will help save natural resources and landfill space.
Hoosier Art Teacher Creatively
Recycles Crayons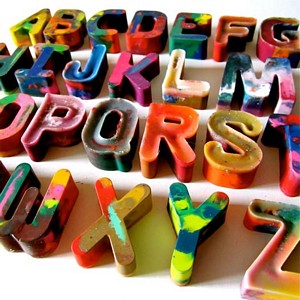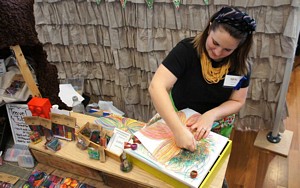 Every art teacher probably has a scrap box filled with broken or orphaned crayons, but Nicole Lewis is one who decided to do something about it. The Fishers, Indiana teacher melts the colorful nubbins and pours them into molds, making dozens of fun shapes that tempt kids to unleash their creativity.
Founder of Original Recycled Rainbow Crayons, Nicole sells the colorful creations in more than 100 shapes and sizes. The resourceful artist and teacher offers everything from alphabet letters to robots at her website, Art 2 the Extreme. Nicole's recycled crayons are also available online at her Etsy shop https://www.etsy.com/shop/art2theextreme.