Art & Craft at Stone Belt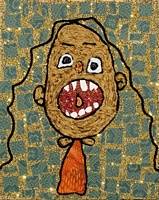 Founded in Bloomington, Indiana by members of nine families who were seeking educational opportunities for their school-age children, Stone Belt supports indiviiduals with developmental disabilities.
The organization, which celebrates its 50th anniversary this year, teaches life skills and provides vocational training. Stone Belt also offers residential programs and employment resources, all in an effort to help clients experience meaningful, independent lives.
A division of the organization, Stone Belt Arts, gives more than two dozen clients the chance to learn important skills related to making art and fine crafts and to develop careers as artists and artisans.
Some of the work created includes mixed media, mosaics, watercolors, cards, and woodworking, and much of the art is made from repurposed materials such as fabric, yarn, and wallpaper.
In addition to learning how to create a variety of art, the clients enjoy exhibiting their work in public places throughout south central Indiana. Oftentimes their art or fine crafts become permanent outdoor installations.
Stone Belt is located at 2815 East Tenth Street in Bloomington. Visit
Stone Belt Art & Craft
, and for more information about the organization, contact them at artandcraft@stonebelt.org or phone 812-332-2168.