New in The Re-Source
This year's Earth Day celebration will focus on Green Cities as the 44th anniversary of this day set aside to honor Mother Earth is observed. We'll give you background information about its history and link you to some helpful resources.
In this feature, we'll put the spotlight on a Bloomington, Indiana fashion show that encourages participants to repurpose old clothing to make new outfits and to create garments from items most people throw away.
Caine's Arcade will introduce you to a young Californian whose imagination is inspirational and amazing, and you'll share his joy when he gains recognition for his ideas and creative spirit.
We'll tell you how to turn an empty, plastic container into an armature for papier mâché. This will save time, and reusing the object will help conserve landfill space, too.
Finally, we'll provide a pie chart that illustrates the amount of municipal solid waste or trash disposed of in recent times in American landfills.
What's In This Issue
Happy Earth Day!
The Trashion Refashion Show Celebrates Green Style
Youngster's Cardboard Creations Inspire Kids
Make a Papier Mâché Armature
Leftovers: Total U.S. MSW Generation by Materials
Spring 2014
Youngster's Cardboard Creations
Inspire Kids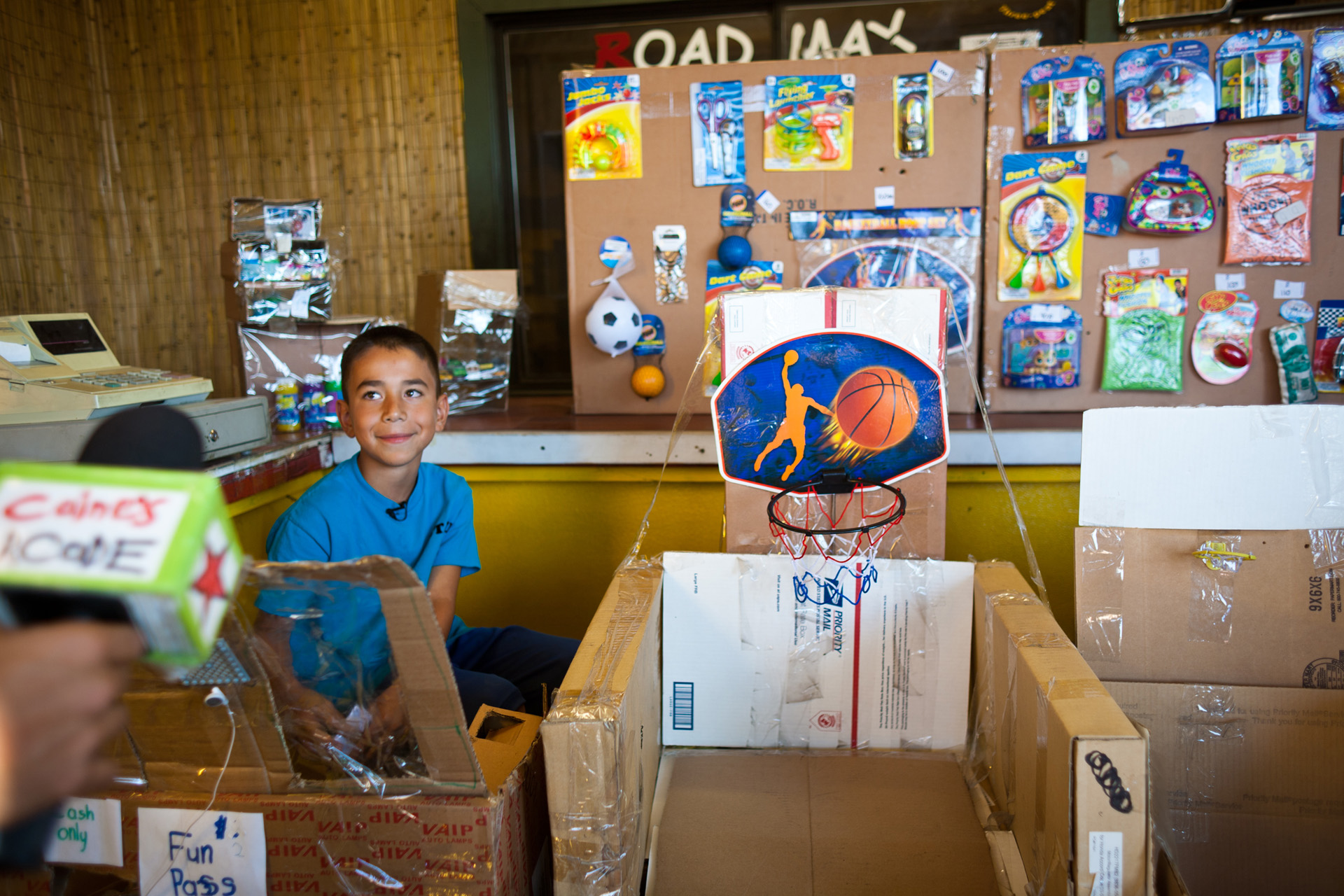 Do you remember when you were younger and how much fun it was to use your imagination to turn empty boxes into houses, castles, and rocket ships? Nine-year old Caine Monroy of East Los Angeles, California spent one summer building a fancy arcade out of cardboard shipping containers that were delivered to his father's auto supply store.
This entertained Caine and gave him something to do while his father tended to business. Although his arcade featured a variety of games, complete with tickets, he didn't have many customers. But one day, a filmmaker named Nirvan Mullick, who walked in looking for an auto part, discovered the arcade, and Caine's imaginative play turned into more than he could possibly dream.
The young boy's creativity amazed Mullick, but he was disappointed that few people bought tickets to play the games. Using social media, Mullick decided to publicize the arcade and rally people to come on a special day to the auto supply store to play the games, and he made a short film about the experience. Throngs of people came to play, and Caine said it was the best day of his life!
What started as a one-day celebration of the young entrepreneur's creativity has inspired millions of kids and grown into a global movement in the form of the Imagination Foundation. The organization supports creativity and entrepreneurship, and it seeks to encourage kids to become innovators and problem solvers. Besides inspiring kids around the world to become more creative, scholarship donations for Caine have poured in, and to date, the fund has grown to $235,000.
To learn more about Caine's project, visit these sites: http://CainesArcade.com and http://vimeo.com/40000072. While you're at the Vimeo site, be sure to see "Caine's Arcade 2: From a Movie to a Movement." Learn how Caine inspired the creation of the Imagination Foundation , and find out how you can participate in the Global Cardboard Challenge .
Photo courtesy of Meeno

by Marilyn J. Brackney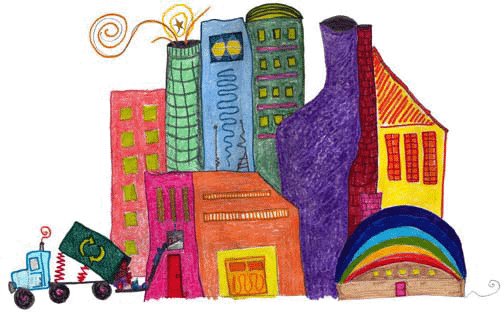 Happy Earth Day!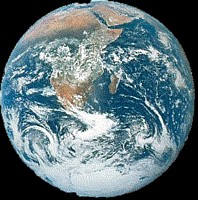 April 22 marks the 44th anniversary of Earth Day. After witnessing the damage created by the 1969 oil spill in Santa Barbara, California, Wisconsin Senator Gaylord Nelson decided to do something to make people more aware of air and water pollution, and he founded Earth Day. On April 22, 1970, nearly 20,000,000 Americans rallied in support of a healthy, sustainable environment. This led to the creation of the United States Environmental Protection Agency and the passage of the Clean Air, Clean Water, and Endangered Species Acts.
In 1990, environmental activist Denis Hayes organized a global campaign that mobilized 200,000,000 people in 141 countries to rally on behalf of Mother Earth. With an emphasis on recycling, the initiative helped encourage people all over the world to become more personally responsible and to recycle. The 20th celebration of Earth Day also led to the 1992 United Nations Earth Summit in Rio de Janeiro. A United Nations General Assembly resolution in April 2009 proclaimed April 22 as International Mother Earth Day.
Now, over a billion people in 190 countries do good things for the environment in celebration of Earth Day. This year, the focus of this special day has as its theme Green Cities. The hope is that we can transform our communities and make a sustainable future for the world's citizens. To learn more about how you can get involved with Earth Day in your community and to find tools and resources to help, see the Earth Day Network. Visit Earth Day 2014 to find information about Green Cities.  
The Trashion Refashion Show Celebrates Green Style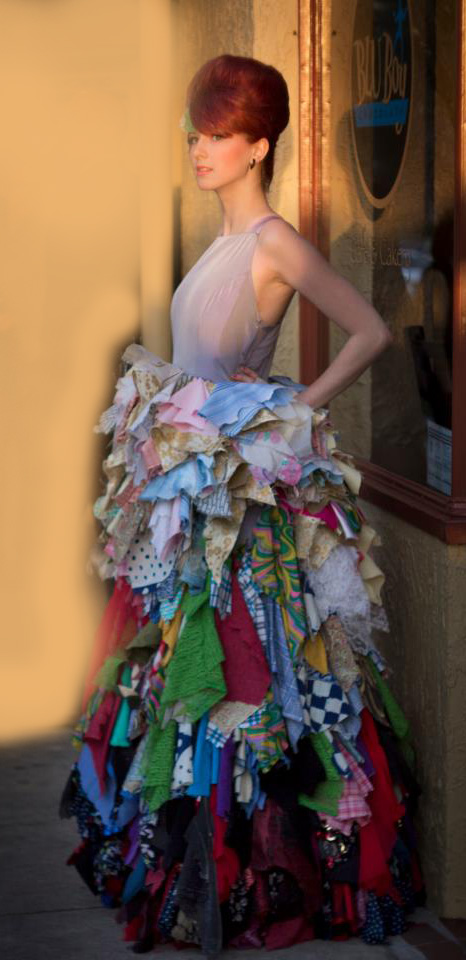 In celebration of Earth Day, fashion designers are gearing up for one of their greatest creative challenges, making something out of nothing or repurposing materials, to make new garments. Working with everything from old T-shirts to bottle caps, professionals and fashion designer wannabes will create a variety of wearable art that will be shown on runways around the world.
One such event, The Trashion Refashion Show, will be held on April 27th at the Buskirk Chumley Theater in Bloomington, Indiana. Held annually in celebration of reuse and recycling, designers submit outfits made from items that were never clothing, such as trash bags and strips of film (Trashion), and repurposed garments made into something new (Refashion).
Designers are allowed to purchase only ten percent of their materials as new, and the rest are required to be repurposed. Now in its fifth year, the event raises awareness about recycling, and it challenges participants to stretch their creativity while using sustainable designs to create eye-catching garments.
The show is a fundraiser for Bloomington's Center for Sustainable Living and its new retail store, Discardia. For more information, visit http://www.bloomingtontrashion.org/ 
Make a Papier Mâché Armature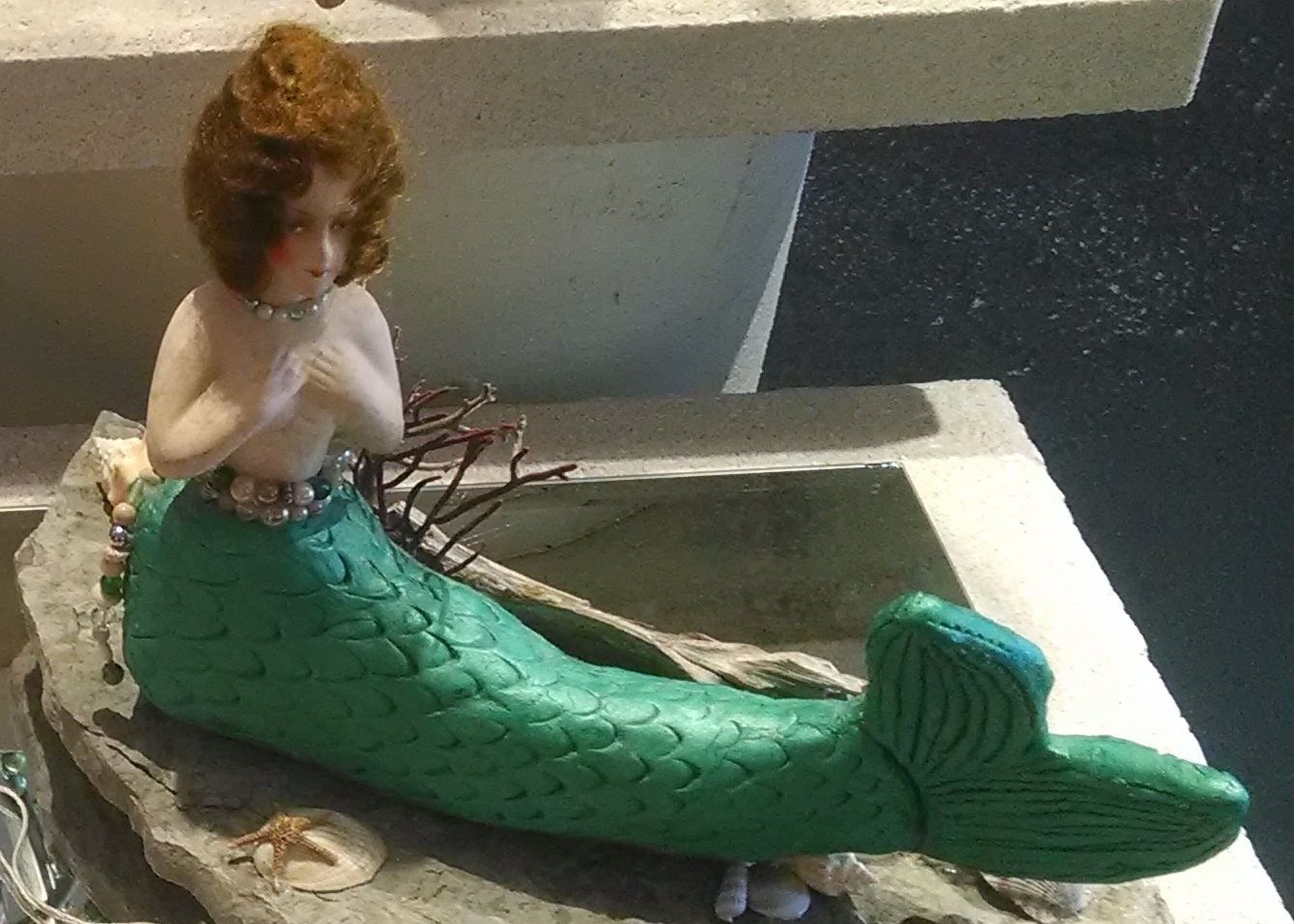 Oftentimes, papier mâché is done over a balloon or wire base, but doing so requires many layers of newspaper to make the object strong. Sometimes, an armature or framework is used instead. This provides good support for papier mâché, and it allows you to more quickly finish objects and figures.
If the armature is really sturdy, it may be necessary to apply just a couple of layers to finish the form. The last layer should be something such as brown paper towels, which are smooth and absorbent. This final coating will be a good base to use in painting the object.
To make an armature, use wire or wadded newspapers to form the shape, and fasten it with masking tape, or you can reuse a disposable, plastic form such as the empty, plastic container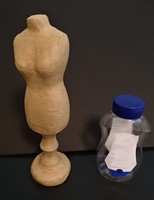 shown here next to the papier mâché dress form. Also pictured is Lorelei, a mermaid whose lower body was formed over an armature of wadded newspaper. The final covering was made of Creative Paper Clay, which before painting, was textured using a potato peeler.
Remember that when working with papier mâché, torn strips lay better than those that are cut. Fibers in newspaper run in one direction, so tear the paper along the "grain" to obtain long strips. For complete directions on how to work with papier mâché, see Build a Trashasaurus Rex Model.