New in The Re-Source
The Imagination Factory newsletters have been online since we began offering memberships in 2008. Starting with this issue, we're providing an index that will help you more easily locate "mini-art activities" and articles. We hope this will make the newsletters more useful and add to your experience as an Imagination Factory Member.
Earth Day's coming up, and our first article links you to a site that features 100 green resources. Each provides good information and ideas to help you celebrate the day and honor Mother Earth.
Creative Reuse Centers are springing up across the country, and maybe there's one located near you. Thanks to the Reuse Alliance, we'll link you to a document that points you to some centers.
We'll tell you about a project in which children participated to create Super Bowl decorations with an eco-friendly twist, and we'll feature a drama group that found a way to repurpose solid waste to use in decorating sets for their annual high school play.
Finally, we'll show you a simple way to create a note card that saves natural resources, energy, and landfill space, and making one will save you time and money, too.
What's In This Issue
Green Lesson Plans and Sites
Creative Reuse Centers
Super Bowl Tree Cozies
Theater Production Saves Landfill Space
Create Your Own Note Cards
Spring 2012
Super Bowl Cozies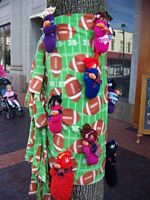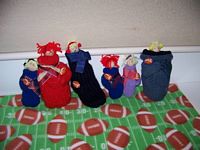 You're probably familiar with the poem that begins with "I think that I shall never see a poem lovely as a tree." That's certainly true in the spring, summer, and fall. But when winter comes and the leaves are gone, some artists like to beautify trees with tree cozies. These decorations are usually crocheted or knitted and made so the designs cover the trunk and the branches.
In celebration of Super Bowl XLVI, some of the kids in our art classes created mitten people to decorate trees in our downtown. Mismatched or outgrown mittens were stuffed with fiberfill from an old pillow, and then they were decorated to look like children. After all the Super Bowl Kids were finished, they were attached to old, fleece blankets that covered the trees. Thirty-two children created the figures, and their tree cozies were among the most popular, decorated trees on display!

by Marilyn J. Brackney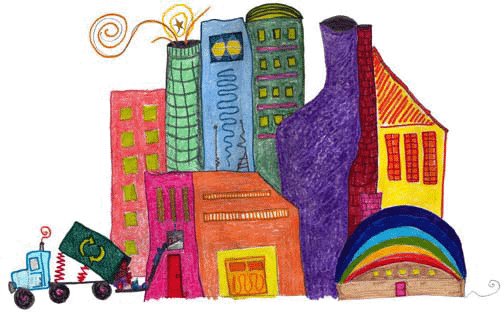 Creative Reuse Centers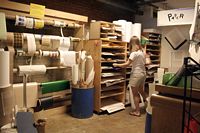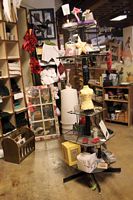 Creative reuse centers are places that collect and distribute industrial scrap waste or items that can be repurposed. These centers perform a great service, because they offer the materials at little or no cost to teachers and others who need an inexpensive or free source of art supplies.
The Reuse Alliance offers a downloadable document with links to creative reuse centers around the country. It also contains useful information about reuse. To access the document, which is called Guide to Creative Reuse Centers, click on Learn, Helpful Resources, Creative Reuse Centers, and Top Tips.


Photos courtesy of The Scrap Exchange, Durham, North Carolina.
Create Your Own Note Cards
The next time you need a gift enclosure or want to send a short message to someone, there's no need to go shopping for note cards. Just reach for some scrap paper to make your own.
The smallest note card that can be mailed in the United States is 3½ " x 5", so cut two pieces of plain, scrap paper 1/8" smaller each way to allow for the envelope.
Now cut a decorative piece of wrapping paper so it measures 1½"x47/8 ". Lay the two pieces of paper side by side, and using a glue stick, fasten them together with the smaller scrap. Fold to make the card.
Make an envelope using a larger scrap of paper, about 8½"x10". Center the card on the paper, and fold in the sides and bottom. If you wish, remove the extra paper at the corners. Fasten with a glue stick. After writing your message, insert the card, and glue shut.
Here's a big recycling tip:
After holidays, greeting card companies hire people to change out the stock at discount and grocery stores. Unsold cards are returned to the manufacturer for credit, but the matching envelopes are often thrown away. Employees are usually happy to share them with customers.
Wizard of Oz Goes Green
Having played to about 5,000 theatergoers, the show is history, and the sets are struck on a local drama group's production of The Wizard of Oz.
Columbus North High School students and advisors took a green approach to creating sets for the play. Inspired by the designs of assemblage artist Michelle Stiltzlein, they reused bottle caps and lids mosaic-style to create whimsical backdrops.
Starting early in the school year, the group began a drive to collect at least 500,000 colorful tops. Students sent out a request asking others to help collect the caps and lids, and businesses and many individuals answered the call.
Reusing the container tops in the play's set design kept the materials out of the local landfill. Although most solid waste facilities collect plastic bottles and jugs for recycling, many, including ours, don't accept the lids because they can't process them.
Now that the production is over, the drama group needs to find an eco-friendly way to dispose of the caps and lids. Thousands were given to the artist who inspired the students' creations, but there are still a dozen barrels and many boxes of the caps and lids left. If you're interested in having some, please contact us.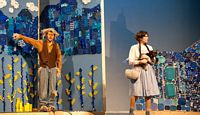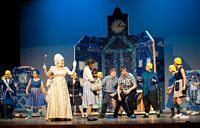 Photos by April Knox/www.intouchphotography.net

Photographer retains copyright and all usage rights ~ inTouchphotography Photographer gives Kids at Art permission to use photos in a newsletter. If any other purpose is needed they must contact photographer at 812.344.3672 or april@intouchphotography.net