Happy Anniversary, Earth Day!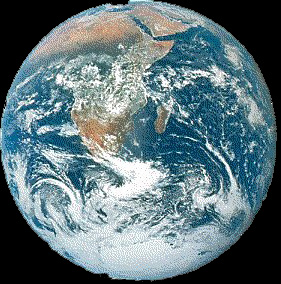 It's hard to believe that Earth Day began 40 years ago this spring. We'll look back on how we observed the holiday's first celebration, and we'll tell you about a special exhibit that showcases some professional artists who reuse materials to create their work.

We'll recommend some good Earth Day books for kids and link you to Web sites with Earth Day themes. If you'll indulge us, we'd like to share some good news about an award The Imagination Factory received recently.

Finally, we'll give you an important tip on how to see the creative potential in items most people throw away, and working with the most unlikely materials, we'll show you how to make a brush to use for painting leaves and grass.
What's In This Issue
Celebrating Earth Day's 40th Anniversary
The Art of Re-Use
Recommended Earth Day Books
Web Sites with Earth Day Themes
Indiana Green Business Award
Turning Trash into Art
Make a Funny Brush
Spring 2010
Celebrating Earth Day's 40th Anniversary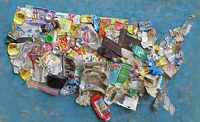 I remember the first Earth Day, which was held on April 22, 1970. I was a young art teacher who had a schedule split between an elementary school and the high school.

I vividly recall the older students' contribution in celebration of the day. In front of the high school, they heaped empty soft drink cans inside a chicken wire enclosure, making a huge pile of the containers. We had no recycling center then, so they probably ended up in the landfill anyway. But seeing all those cans made a powerful, visual statement.


There were two Earth Day art lessons I taught to make the elementary kids more aware of environmental issues. One had to do with clean air, and the other was about littering. Called America the Beautiful?, I still have the anti-littering example one of my students created.
Thirty years later, I led a community "litter sweep" of our downtown area, and we created a much larger collage made entirely of trash we picked up off the streets. If you'd like some tips on creating your own litter map, see
Lesson #1, America the Beautiful?
On that first Earth Day in 1970, global warming and many other environmental problems we face today were not issues, at least among the general public. However, some of the same concerns we had then are still with us.
Although many more people are recycling today, we can do much more. Reusing materials, which we stress at The Imagination Factory, is an even better way to save natural resources, energy, and landfill space. To learn more about Earth Day and how you can participate in a local celebration, visit the
Earth Day Network
, and have a Happy Earth Day!
In Celebration of Earth Day 's 40th Anniversary
Broken toys, yesterday's newspaper and china shards may seem like trash to most, but in the hands of professionals, they can be transformed into beautiful art and fine crafts.

Twelve artists have used scrap or repurposed objects to create artwork that's featured at Hotel Indigo's Phi Gallery in downtown Columbus, Indiana.

Presented by the Columbus Museum of Art and Design, this exhibit entitled The Art of Re-use in Celebration of Earth Day's 40th Anniversarywill be on display from April 1 through May 28th, 2010.

The show includes Bloomington artists Glenn Carter, metal sculpture, Cappi Phillips, mosaic/assemblage and Kelly Tate, mixed media. Among the participating artists from Columbus are Marilyn Brackney, cast sculpture, Linda Peterson, mixed media, Chad Shock, woodturning and Jan Wantz, fiber arts.

One of the more unusual entries is that of another Bloomington artist, Nick McGill, who transforms old machine parts into candlesticks. Also from Bloomington, Martina Celerin, whose work was featured on HGTV, is showing one of her spectacular weavings.

A Brownsburg husband and wife team, Mark and Lynne Medsker, display metal sculpture and collage, and many who have toured the "Back Roads of Brown County" will recognize Chris Gustin's weaving.
The Imagination Factory Receives
Indiana Green Business Award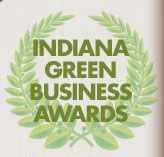 Marilyn Brackney, creator of The Imagination Factory, was one of eleven honorees who received the prestigious Indiana Green Business Award in Indianapolis in late March. She was given the award for her creative approach in teaching others to make art with reused materials.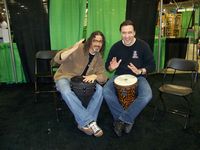 Sponsored by Rolls-Royce Corporation, the awards were part of Green Fest Indy, an expo held at the Indiana State Fairgrounds. More than 140 companies set up exhibits and lectures to educate Hoosier businesses and the general public to help create a better world by greening neighborhoods and communities.

Brackney received the Education Award for organizing Déjà vu, an annual art show featuring professional artists who reuse scrap or solid waste to make their work. Also, she was recognized for creating The Imagination Factory.

Judges for the Indiana Green Business Awards included representatives from Rolls-Royce Corporation, the U.S. Green Building Council, Whole Foods Market, Center of Wellness for Urban Women, Nuvo and IndyMetro Business Alliance for Local Living Economies. Green Fest Expos, Inc. organized the three-day event.
Pictured above are Ed Gaus and Brian Fields of Bongo Boy Music School, performing on recycled instruments at Greenfest Indy.
Turning Trash into Art
When I taught in the public schools and worked on a limited budget, I often resorted to using scrap and trash as art supplies. I learned that reusing solid waste to make art is just a matter of studying an art material's features or qualities.

Then it was fairly easy to substitute scrap or a "repurposed item" for something I usually ordered from an art supply catalog. Sometimes I started with the conventional art material and thought about the kinds of solid waste I could substitute for it.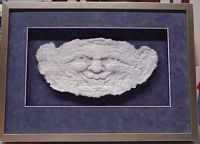 A good example of "repurposing" is Le Visage, a cast sculpture I created from dryer lint. Pictured here, it's on display now in the The Art of Re-Use, the exhibit that's described above.

I usually cast relief sculptures from paper pulp, which I order from a company that specializes in making the material. When I had the opportunity to enter a recycled art show, I decided to try substituting dryer lint for the commercially made casting product. It worked, and I received 2nd Place in the competition!

All this is leading up to the following art/reuse activity. Remember, studying an art material's qualities or features can enable you to "repurpose" scrap or solid waste. In this case, we'll reuse some common, household materials to make an essential artist's tool, a paintbrush.
Make A Funny Brush
In this art activity, we'll show you how to creatively reuse rubber bands. Of course, you can reuse them for their original purpose, but it's also possible to make a paintbrush from several pieces of rubber bands that are bound together.

Painting with this type of brush is a good way to create textures like grass and leaves, and it can be used with just about any kind of medium, including oil, watercolor, and acrylic. Since the rubber won't absorb, cleaning the brush is very easy. Just wipe off the paint with a rag.

The inspiration for our brush is one that we bought at an art supply store. Known as the Funny Brush, its design is very simple. Studying the "bristles" of a Funny Brush reveals that it is made of short, rubbery pieces, much like the material of which rubber bands are made.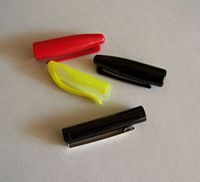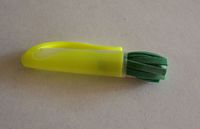 You Will Need:


How to:
Cut the rubber bands into pieces that measure about 1.25 inches long. Gather them into a bundle, and tape the pieces together at the top. Push the taped end into the pen cap.

If necessary, add more short sections of the rubber band in order to fill the cap, and tape again. Trim the tips of the bands so they're even.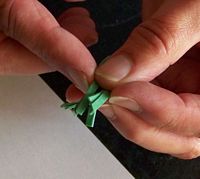 Now you're ready to create, and the tool is ideal for making grass and foliage. Dip the brush into paint, and dab it onto the paper or try making brushstrokes.
Tips and Tricks
For the best results in making a brush, use bands that are at least one-eighth inch in width.
It's also possible to create leaves, grass, and other textures using a small piece of cellulose sponge. Just dip the material into the paint and dab it onto the paper or canvas.
Recommended Children's Books with Earth Day Themes
Some of the books listed may be out of print. If you can't find them at a bookstore, check your local library or search Amazon.com for used copies.
Ann Durell, Jean Craighead George, and Katherine Paterson.
The Big Book for the Planet New York
: Dutton Children's Books, 1993. ISBN 0525451196
Foster, Leila M.
The Story of Rachel Carson and the Environmental Movement
. Chicago: Children's Press, 1990. ISBN 0516047531?
Holling, Holling C.
Paddle to the Sea
. New York: Houghton Mifflin, 1941. ISBN 0395150825
Martin, Bill Jr. & Archambautt, John.
Listen to the Rain
. New York: Henry Holt and Co, 1988. ISBN 0805006826
Peet, Bill.
The Wump World
. Boston: Houghton Mifflin, 1970. ISBN 0395198410?
Pfeffer, Wendy.
A Logs' Life
. New York: Simon and Schuster Books for Young Readers, 1997. ISBN 0689806361
Web Sites with Earth Day Themes