New in The Re-Source
Since his creation, our site's mascot, Trashasaurus Rex, has traveled hundreds of actual miles and millions of virtual miles on the Internet in an effort to increase environmental awareness and to encourage recycling. We're pleased to see that the trashy beast continues to inspire others to create their own dinosaur sculptures from solid waste, and we'll show you some new ones that we just discovered.
In 2005, we were challenged to stage an art show featuring professional artists who recycled or repurposed solid waste materials to create their work. The first show was held in celebration of Earth Day, and in the fall, we presented our tenth event, this time to help publicize America Recycles Day. The show was wildly successful, and in this article, we share photos of some of the artists' beautiful art and fine crafts.
In our summer 2014 newsletter, we told you about a global project called the Cardboard Challenge. A few months ago, we helped sponsor a local event, and we'll tell you about some elementary students who participated this year. Also included are photos of their wonderful projects, all made from corrugated cardboard.
Our fourth article briefly talks about some simple ways to make valentines. Although we refer specifically to Valentine's Day, we encourage you to try out the ideas for other holidays, as well. Making your own cards ensures that those on your list receive original, one of a kind greetings, and repurposing or using scrap materials helps save energy, natural resources, and landfill space.
Finally, in the Leftovers section, we feature the ancient craft of papier mâché and we describe the two main ways in which artists use the material to create their work. It seems that making taxidermy trophies in a wild, creative style are "in" these days, and we've linked a You Tube video of Seattle artist Dan Reeder creating a dragon trophy that uses the papier mâché technique as the base of his work. We hope you enjoy it.
What's In This Issue
Trashasaurus Still Inspires
Popular Art Show Celebrates Tenth Anniversary
Cardboard Challenge-Columbus, Indiana
Easy Ways to Make Valentines
Leftovers: Papier Mâché Dragon Trophy-Son of Maleficent Video
Fall/Winter 2014 Newsletter
Trashasaurus Still Inspires
It's hard to believe that our mascot, Trashasaurus Rex, turned 22 in October! As you may recall, the sculpture was created to bring attention to the fact that the dinosaur's home state, Indiana, was prohibited by a court order from keeping trash from other states out of our landfills. Since introducing the dino and sharing his story on The Imagination Factory Website, people all over the world have designed their own versions of the trashy beast.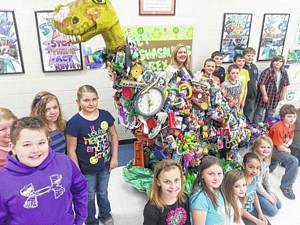 We've posted photos in the past, but recently, we came across an article and some photos of an art teacher in New Portsmouth, Ohio. Kim Platzer and her elementary school students made a fifteen-foot long dinosaur out of non-recyclable trash, which they also called Trashasaurus Rex. This is the second solid waste dinosaur sculpture that Kim and her students have created.
Trashasaurus Rex's fame has spread across the pond to England, to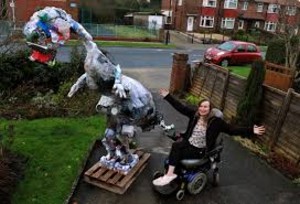 o. Created by a resident of Acomb, Michelle Wyatt collected her own non-recyclable solid waste to make a twelve-foot version of the dino. Her trashy beast even became the centerpiece of the York Residents' Festival, an event designed to encourage people to adopt a greener lifestyle.
-->

by Marilyn J. Brackney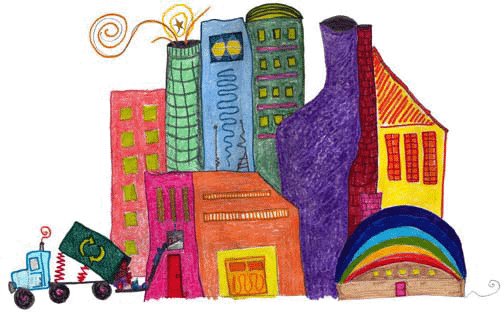 Popular Art Show Celebrates Tenth Anniversary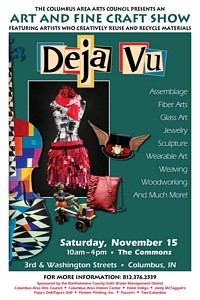 An art and fine craft show that began in 2005 as a modest exhibit held in celebration of Earth Day has grown into the premier event of its type in the State of Indiana. Presented on November 15th, this marked the tenth time the Déjà Vu Art and Fine Craft Show was held. This year's show featured more than 60 professional artists who exhibited their work and participated in observance of America Recycles Day.
Art lovers who attended shows in the past have been astonished to see the quality of art and fine crafts made from materials most people throw away. The event serves to demonstrate that with imagination, much of what we consider useless can be turned into something beautiful, and repurposing materials to create art helps save energy, natural resources, and landfill space. Artists from several states showed art and fine crafts such as painting, sculpture, jewelry, wearable art, woodworking, glass art, and weaving at The Commons in downtown Columbus, Indiana.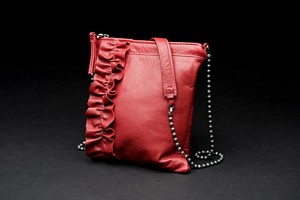 Returning for her third Déjà Vu Art and Fine Craft Show was Indianapolis artist Anita Hopper. A member of the prestigious Indiana Artisan and the Featured Artist of this year's show, Hopper visits thrift shops looking for old leather apparel and upholstery. She deconstructs and cleans the material, and then she repurposes it to make beautiful, one of a kind purses and accessories. Hopper joined many more amazing, professional artists, with one third of the exhibitors participating in their first Déjà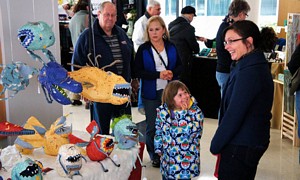 Vu Art and Fine Craft Show. They included Indre Pralataviciute-Mineikiene who makes fantastic dragons and other papier mâché characters.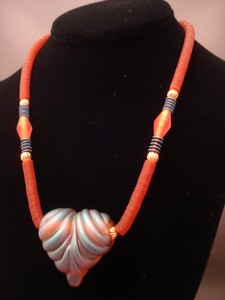 One of the more unusual entries was that of newcomer and Ohio artist Bob Blum who fashions jewelry from antique sequins, which date from 1890 to 1950. About five years ago, Blum came upon the glittery material when he discovered the sequins where they'd been abandoned in a warehouse since World War II. He bought the lot, and now he hand strings the little gems, combining them with beads and other materials, to create stunning necklaces that he calls art jewelry.
Traveling from Fort Myers, Florida to participate for the first time was Hope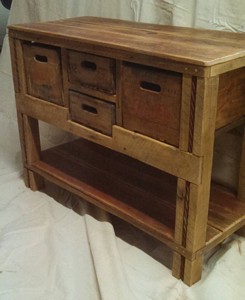 Frasier. The Sunshine State artist invented a special solution she uses to turn old fabric into waterproof containers. Ted Lyons and Ron Kern search the Indiana countryside looking for old barns to purchase and deconstruct. Back in their Greenfield workshop, they turn the wood into handsome furniture such as bed frames, benches, cabinets, and tables. To see more about the show, visit the Déjà Vu Facebook page at https://www.facebook.com/DejaVuArtAndFineCraftShow.
Leftovers: The Craft of Papier Mâché and the Dragon Trophy-Son of Maleficent
The craft of papier mâché is nearly 2,000 years old, and it has been used to make everything from piggy banks to dolls and furniture. The base for our mascot, Trashasaurus Rex, was created from papier mâché, which is French for "chewed paper." There are two ways to work with the material. One starts with soaking or boiling paper until it becomes a pulp, and then an adhesive, such as glue or wallpaper paste, is added to it before molding an object or figure. Larger items must be formed over an armature, as they won't be strong enough to stand alone.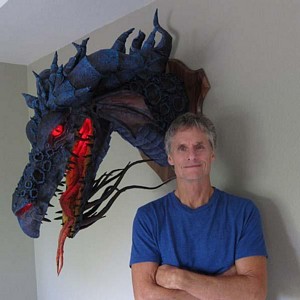 The other method of working with papier mâché requires you to tear paper into squares or strips, which are then glued over an armature such as that formed from a balloon, wadded paper, or chicken wire. Trashasaurus was made over a chicken wire framework. Watch Seattle artist Dan Reeder, a master at working with papier mâché, as he uses an armature to create an amazing dragon trophy that he calls Son of Maleficent.
Cardboard Challenge-Columbus, Indiana
You may recall a feature we published about Caine Monroy, the young Californian who created arcade games from cardboard boxes. After a documentary about him was released, the Imagination Foundation was formed, and now the organization annually sponsors an international project called the Cardboard Challenge. It encourages kids to make their own games out of cardboard.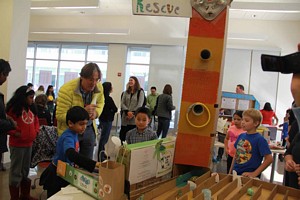 Some groups in Columbus, Indiana worked together to issue a challenge to local kids to build games. The final competition was held here at the Indiana University Center for Art and Design. The top ten teams, which were from Parkside Elementary School, demonstrated their games, and they competed to see whose project was judged to be the most creative and interesting.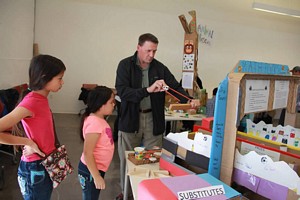 Animal Rescue and Math Flick Soccer were the top two teams, and they were invited to demonstrate their games at the Déjà Vu Art and Fine Craft Show, an annual event featuring repurposed art and crafts created by professional artists. At the show, students charged players 25¢ to play the games. In just four hours, the students were able to raise $180, which they donated to the county chapter of Big Brothers and Big Sisters!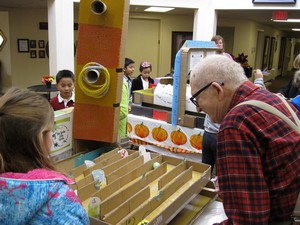 In addition to the competition and game demonstration, the winning teams took their games to an assisted living facility to allow senior citizens to play the games. Residents enjoyed meeting the young people and playing the games the kids had created from cardboard. The third graders found that speaking to people and having them play their games was good practice for the final competition. To see more photos of the Columbus version of Cardboard Challenge, visit their Facebook page. https://www.facebook.com/cardboardchallengecolumbusin.
Easy Ways to Make Valentines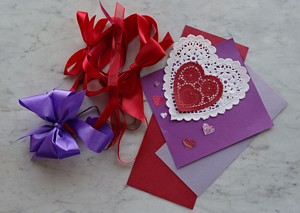 The following are some suggestions for ways to create your own valentines. Use them alone, or combine two or more ideas. Practice cutting on scrap paper, and whenever possible, repurpose or use leftover materials to make cards.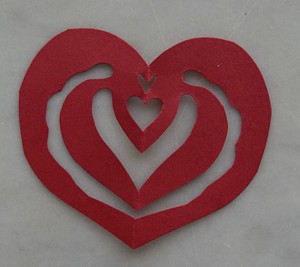 Scherenschnitte, a German word that means "scissor cuts," is the art of cutting paper to create a design. To make a cut paper valentine, just fold the paper in half and lightly draw half of a heart on one side. Starting on the fold and in the center, cut some small shapes. Continue cutting on the fold, working your way to the outside, and then cut out the heart. Glue to a card or background.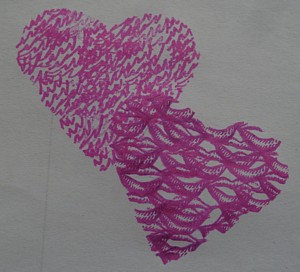 Printmaking uses blocks or stamps that have had paint or ink applied to them, and then the design is transferred to paper.
Stenciling is a type of printmaking in which ink or paint is applied through an opening or cut shape such as this heart.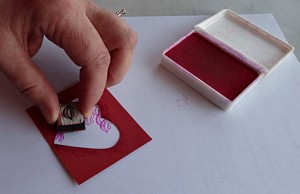 Paper punches are commercially made tools that allow you to cut small shapes from paper. Some of the designs that are available include hearts, cupids, and letters. Also, you can use craft scissors that have special blades to make fancy cuts.