New in The Re-Source
The ninth Déjà Vu Art and Fine Craft Show was a tremendous success, with dozens of artists showing and selling their work and nearly 2,000 people attending. In this issue, we'll feature some of the artists who participated.
In the Green Links section, we connect you to some additional online resources where you'll learn about environmental issues and gain useful information and activities that will help save Mother Earth.
Our third article features a small, creative reuse center located in Indianapolis, Indiana. Run by a former art teacher, Indy Upcycle is just a few years old, but it's making a big difference in reuse habits and attitudes.
Trashy Trivia provides more fun facts about recycling, and in the Leftovers section, we'll show you how to turn a clear, glass plate into a fun and colorful serving piece that will be perfect for leaving Santa a midnight snack.
What's In This Issue
Déjà Vu Art and FIne Craft Show Follow-up
Green Links
Indy Upcycle
Trashy Trivia
Leftovers: Decorate a Glass Plate
Fall/Winter 2013

by Marilyn J. Brackney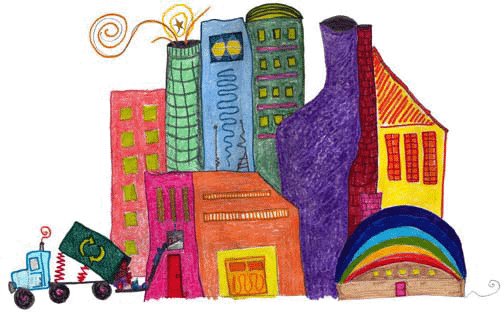 Déjà Vu Art and Fine Craft Show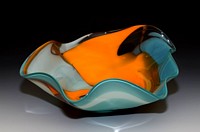 Recently, the annual Déjà Vu Art and Fine Craft Show was held in Columbus, Indiana in celebration of America Recycles Day. Nearly 70 professional artists who use scrap materials or repurpose items to create their work participated.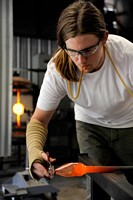 The featured craftsman, Aaron Shufelt, showed art glass that he created in his studio in North Carolina. His workspace is located at the Jackson County Green Energy Park in a facility built on an old landfill. Shufelt and others who work there use captured methane gas as fuel in making glass, pottery, and metal art.
Other artists who participated in Déjà Vu came from Illinois, Indiana, and Kentucky to show assemblage, fiber arts, glass art, jewelry, sculpture, wearable art, weaving, and woodworking.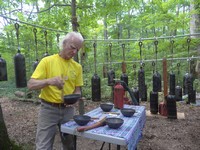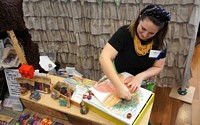 One of the more unusual entries was that of newcomer and Kentucky artist Fred Asplen. Working with an acetylene torch, he creates designs on spent oxygen tanks and fire extinguishers before turning them into giant bells. 
Clearly in a class by herself, Fishers artist and art teacher Nicole Lewis was one of the few exhibitors who truly recycled to create their work. Lewis melts scrap crayons and pours them into molds to make new ones in shapes such as dinosaurs, robots, and alphabet letters.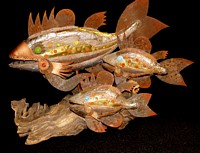 Ken Roberts of Cadiz, Kentucky showed mixed media sculpture of fish. Made mostly of scrap wood, the fish are first carved into different shapes, and then the artist covers them with scrap aluminum, copper, and brass. Using a variety of brads and nails, Roberts accents them with interesting patterns, and sometimes he adds stained glass.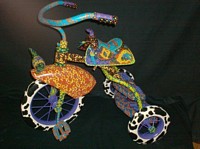 Returning for his second show was Wabash, Indiana painter Michael Hapner. One of the most popular artists who exhibited last year, Hapner applies painted dots to repurpose a variety of items including saddles, bicycles, records, violins, guitars, pianos, mannequins, and boots. To see more photos of artists' work and to learn about the history of the show, visit https://www.facebook.com/DejaVuArtAndFineCraftShow. And don't miss next year's show, which will be held at The Commons on Saturday, November 15th in downtown Columbus, Indiana.
Indy Upcycle
Giving Old Materials New Life
Public school art teachers who have to deal with budget cuts often resort to using scrap materials or repurposed items in order to make up for a lack in conventional art supplies. So imagine our delight and surprise when we discovered Indy Upcycle!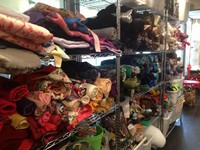 Located in Broad Ripple Village, a neighborhood north of the Indianapolis downtown area, this 810-square-foot shop is a wonderland for those interested in saving money on art and craft supplies.
Founded in October, 2011 by former art teacher Mandy Falco, the store grew out of a need to find good homes for the glut of materials she had collected. Thinking that there must be others who'd like to have the supplies, the passing of Mandy's grandmother gave her extra motivation to do something about the problem.
Grandma was an avid crafter, and after her death, it was very difficult for the family to decide what to do with her prized art and craft supplies. That's when it occurred to Mandy to open a shop where people could find materials at reasonable prices.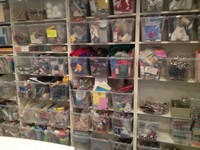 Indy Upcycle accepts donations of previously owned art and craft supplies, which are then sold at pay-as-you-wish prices. In other words, people pay what they think is fair. Some of the materials include books, magazines, fabric, yarn, paint, brushes, buttons, marbles, bottle caps, and just about anything that can be used to make art and crafts.
In the near future, Mandy plans to move to a new, 1000-square-foot space that will allow her to stock more items, and open a crafting room where she'll teach classes and customers can work on projects. She also hopes to offer finished art and crafts for sale on a consignment basis.
Mandy Falco solved several problems by opening Indy Upcycle. She finds new homes for unwanted materials, provides art and craft supplies at affordable prices, and, perhaps, most importantly, Mandy keeps items out of the landfill, thereby helping the environment. Indy Upcycle is located at 6354 N. Guilford Avenue. Vist their Web site at http://www.indyupcycle.com/, or for more information, call 317-643-2278.
Decorate a Glass Plate
You can buy a clear, glass dish for little money at the Goodwill or another thrift store, and a few strokes with a paintbrush dipped into acrylic enamels can turn it into a colorful serving piece perfect for holiday cookies and other treats.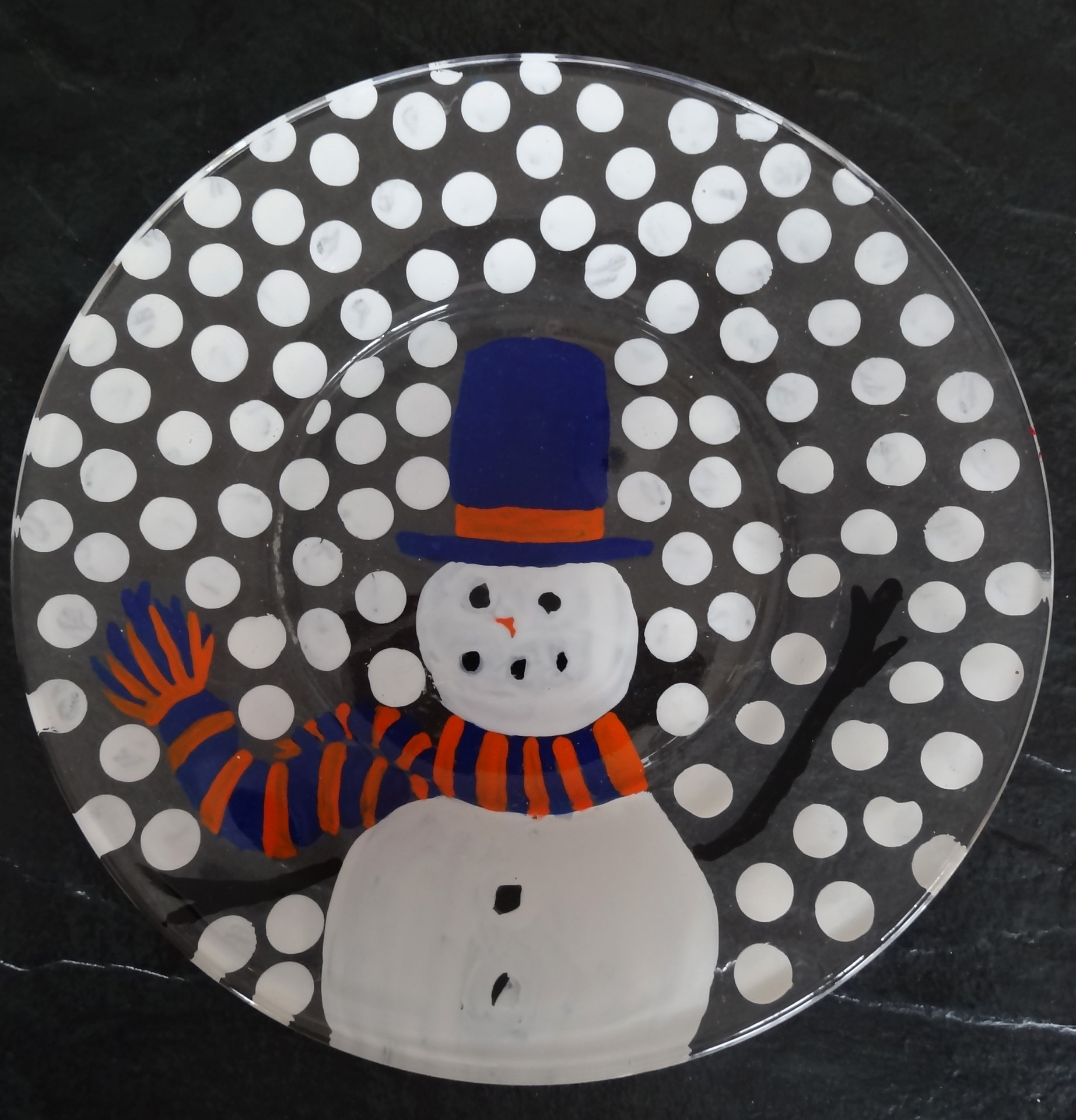 To begin, lay the plate face down on a piece of white paper and trace with a pencil. Cut out the shape and draw a simple, holiday design on the paper.
Wash and dry the plate, and wipe the bottom or underside of the dish with rubbing alcohol. Tape the drawing face down on the inside of the plate.
Turn it over, and follow the lines to paint the design or picture on the underside. Dipping the flat end of a short dowel rod into paint and applying it to the dish is an easy way to make snow.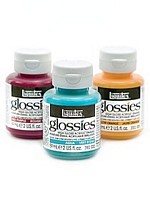 Although there are many brands of acrylic paints that work on glass, we prefer Liquitex Glossies Acrylic Enamels. Just follow the directions on the label for painting, thinning colors, cleaning up, and caring for the dish.
Besides painting on glass, acrylic enamels can be used on slick non-porous materials such as tile, ceramics, stoneware, china, enamelware, primed metal, wood and other non-oily surfaces.