Deja Vu Art Show Held in Celebration of America Recycles Day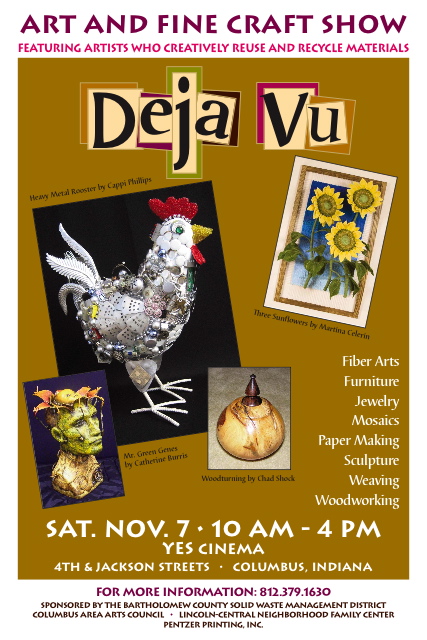 Deja Vu All Over Again was held on Saturday, November 7th in downtown Columbus, Indiana. Hundreds of beautiful art and fine craft pieces, including collage, jewelry, sculpture, mosaics, and weaving, were displayed. The following artists won Purchase Awards.
Dick Gerard..........Wood turning
Nick McGill...........Machine Sculpture
Susie Seligman..........Furniture
Chad Shock..........Wood turning
Stone Belt Art & Craft..........Mixed media
Megan Winn..........Bookbinding
Sheryl Woodhouse-Keese..........Papermaking
Trashasaurus Rex Inspires Others to Create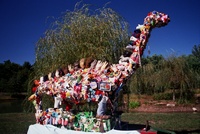 Trashasaurus Rex celebrated his 17th birthday in October! Completed in the fall of 1992, we created the solid waste sculpture to protest a United States District Court ruling. The judge in the case decided that the State of Indiana couldn't keep other states from exporting their trash for disposal in our landfills. Trashasaurus was created to bring attention to the news story, and to encourage our citizens to reduce, reuse, and recycle.
Since his creation, the dino appeared in a parade, and he participated in the First Kids' World Conference on the Environment, which was held at the Nickelodeon Television Studios in Orlando, Florida. After learning that the Rocky Mount Children's Museum lost its entire collection from flooding caused by Hurricane Floyd, we donated
Trashasaurus to the North Carolina museum
.
Directions for
creating one's own solid waste sculpture
appear at The Imagination Factory, and since posting them in 1996, many students, families, and organizations, including Tim Freud's class at Holy Cross Elementary School in Dover, Delaware, have created their own versions of Trashasaurus Rex. Below are images of some of the solid waste sculptures. If you know of others, please send photos and contact information to
kidatart@kid-at-art.com