Artist's Statement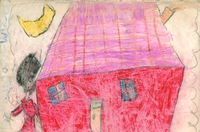 "When I was much younger, I wanted to record what I saw and produce works that looked realistic. Slowly I came to understand that art is more than a pretty picture. This expresses how I feel about the purpose of art and the content of my work. Any subject is appropriate, and any material, whether it's trash or gold leaf, is suitable to use as a medium for my creativity and imagination."
About the Artist
A Columbus, Indiana resident most of her life, artist Marilyn Brackney has happily created art since she picked up her first crayon at the age of three. Although she enjoys experimenting with a variety of materials, her favorite media include marbling fabric and paper, printmaking, and drawing.
Brackney received a Bachelor of Science degree in art education and Master of Science degree in psychology from Indiana State University. She has continued her education through various workshops, including classes in marbling, printmaking, and papermaking. In October 2017, Brackney was named an Indiana Artisan for her

marbled paper and fabric.
In speaking about her life as an artist, Brackney says, "I can't remember a time when I wasn't making art. From my first childhood drawings on foggy windowpanes to work created much later on canvas or sculpted in stone, art has always been an essential part of who I am. Also, I'm a former public school art teacher, and I still enjoy working with kids and teaching classes in my studio."