The Flat Stanley Project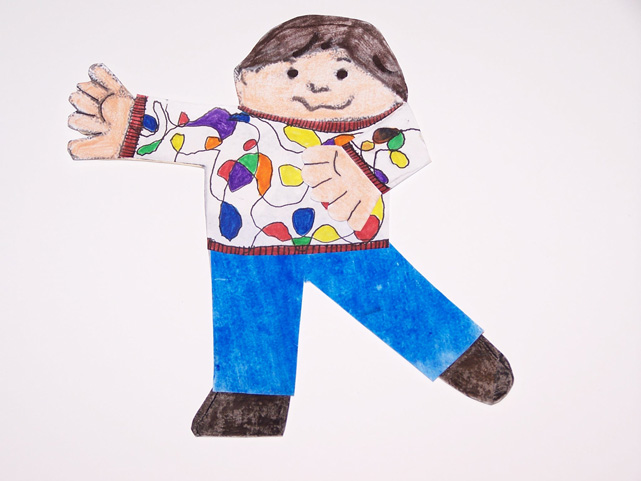 America Recycles Day is observed each year on November 15. Since it began in 1997, millions of people have learned how recycling can help save energy, natural resources, and precious land that otherwise might have been used to bury solid waste.
In addition to encouraging Americans to recycle, the America Recycles Day national organization works hard to encourage people to buy recycled products. Visit America Recycles Day on the Internet to learn how you can become involved in this national event.
With permission from Dale Hubert, creator and moderator of the Flat Stanley Project, we are pleased to offer some special Flat Stanley art activities that are designed to reuse materials. Finding new uses for the throwaway items described here will help save money and precious landfill space, and we present the activities in celebration of America Recycles Day.
The Flat Stanley Story
Inspired by Jeff Brown's book entitled Flat Stanley, this activity is designed to encourage children to share ideas and information with others, and taking part in the project is a good way to improve reading and writing skills. It also combines writing with many school subjects, including math, science, geography, social studies, and art.
To participate, the child creates a drawing of the book's main character and cuts out the figure. Next, he takes him to visit other people or to see local points of interest, and he records his paper pal's experiences in a journal. Then Flat Stanley, the journal, and a letter explaining the project are mailed to someone else who continues the activity and documents the character's adventures in the small book.
After a few days, the flat friend and journal are returned to the original sender. Sometimes the character returns with souvenirs, postcards, or photos showing places to which he traveled or people with whom he visited. Flat Stanley has had some exciting adventures during his lifetime. He's met several presidents, appeared on television, and even gone into space on a NASA Space Shuttle!
How the Flat Stanley Story and Project Began
Created more than 40 years ago, the Flat Stanley character grew out of a bedtime story told by Jeff Brown to his children, J.C. and Tony. It seems that one night when it was time to go to bed, J.C. was stalling and asked his father to stay awhile to talk. He told him he was afraid the big bulletin board over his bed would fall on him.
Since Mr. Brown had mounted the board himself, he assured J.C. that he would be fine, but as a joke, the dad added that if it did fall, the boy would probably wake up in the morning a little flat. The children thought this was hilarious, and for many nights afterwards, the three would make up stories about things they could do and places they'd go if they were flat.
Later, a friend who worked in the publishing business heard about the flat stories. He suggested Mr. Brown write a book about them, and that's how the Flat Stanley series originated. Dale Hubert, a Canadian schoolteacher, created the Flat Stanley Project, thereby linking students and encouraging communication. Now Flat Stanleys travel all over the world making new friends and having great adventures.
Create Flat Stanley
Depending on the projects that follow and the techniques you use, the art materials will vary. Remember that if you reuse and recycle materials to make your Flat Stanley, journal, and other artwork, you'll help save landfill space, energy, and natural resources.
You Will Need:
A copy of the Flat Stanley book
Scrap or recycled paper (8.5"x11")
Pencil
Scissors
Glue stick
Crayons
Markers
Colored pencils
Liquid watercolors
Yarn
How to:
Check out Flat Stanley from your library. If you want to own a copy of the book, click on the link below in Tips and Tricks for ordering information. After you've read the story, you're all set to draw Flat Stanley.
Think Flat!
You've been creating flat or two-dimensional art all your life. Drawing paper is flat, having only length and width. When we add the dimension of depth or thickness, as in making a sculpture, we say that objects are three-dimensional.
YOU are three-dimensional, but because Flat Stanley has only two dimensions, he can do things and go places that you can't. For example, he can hide between books on a shelf, slide under a door, or go into a mail slot at the post office. Can you think of more places he can go because he is two-dimensional?
Dale Hubert, the creator of the Flat Stanley Project, hopes to encourage you to create your own character, but if you prefer, he has provided a pattern or template that you can copy. Just adjust the size to fit a standard sheet of paper and print. Make the copy on recycled paper or the backside of used paper to help save precious landfill space, energy, and natural resources.
If you want to make your own paper pal, just create the figure so that it's the same size as the one shown here. To make a sturdier Flat Stanley, trace his shape onto a piece of cardstock or an old file folder. Cut it out and glue to the back of the figure. Print your name and address on the back of your Flat Stanley to help him find his way home after he completes his travels. Now you're ready to color the figure or decorate it in any way you wish.
Ways to Decorate Flat Stanley
Instead of using crayons, markers, or colored pencils for the hair, consider gluing on scrap yarn.
Trace Flat Stanley's shirt onto a color comic page, scrap of gift wrap, or other decorative paper; cut out and glue onto the figure.
Use pliers to pull the felt-like nib from several dried up markers of the same color. Place the material into a jar and add a little water. Use to paint the pastel color onto a scrap of paper. Allow to dry. Cut out and glue into place for Flat Stanley's shirt or pants.
Remove the paper from a scrap crayon. Lay it flat on its side, and color Flat Stanley's shirt or pants. Cut out and glue into place. This type of coloring is called the broadstroke method.
Use a dark, thin marker to make loops all over a small scrap of paper. Color in some of the areas to make a design. Trace for Stanley's shirt; cut out and glue into place.
On a scrap of paper, draw the same shape or symbol over and over again to make a repeat design Trace for Flat Stanley's shirt; color, cut out and glue onto the figure.
Using crayons, heavily color a scrap of paper that's big enough for Stanley's pants. Polish the color by gently rubbing with a soft rag. Trace, cut out, and glue onto the figure.
Place a used dryer sheet over a piece of wax paper or scrap foam core. Soak with water from a paint brush. Using liquid watercolors in either cool colors (blues, greens, and purples) or warm colors (reds, yellows, and oranges), let the paint flow onto the material. Iron when dry between two sheets of white paper. Glue to a scrap of colored tissue gift wrap. Trace for Flat Stanley's shirt or pants, cut out, and glue.
Using liquid watercolors, rubber bands, and a used dryer sheet, tie and dye a T-shirt or necktie for Flat Stanley. Tightly twist the dryer sheet into a rope, and keep it in place with rubber bands. Paint with watercolors. Dry, remove the bands, and iron between two sheets of white paper. Glue to a scrap of tissue giftwrap paper. Trace for Flat Stanley's shirt, or cut a smaller piece for a necktie. Glue into place. See Tie and Dye a T-shirt for more ways to make patterns.
Send Flat Stanley on a Trip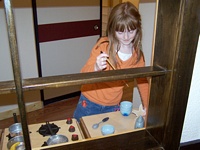 After creating Flat Stanley and a journal, you're ready to send the character on an adventure, but before he leaves, show him around where you live. He might visit a museum, playground, camp, or take him someplace else you like to go to have fun. Some of my students, Alexandria, Christopher, Emily, Erin, Ethan, and Jayden, created Flat Stanleys and took them to visit kidscommons Children's Museum. Click here to see our trip.
Afterwards, write about his experience in a couple of pages in your journal. Now he's ready to travel to another part of the country or even the world, to continue his adventures. Talk to your parents to decide where you can send your paper pal. Do you have a relative or friend who might like to host Flat Stanley?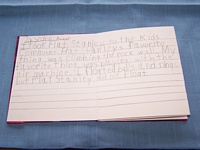 Write a letter introducing him and describing the project. In addition to explaining who he is, ask the person to continue Flat Stanley's adventure by taking him to see nearby points of interest and recording his experiences in the journal. Suggest that the host add some photos, post card, or a souvenir of the trip, slip the flat friend and journal into an envelope, and return to you.
The Flat Stanley project is completed when he arrives home. You may wish to plot his travels on a map or figure the total distance from your city to the one he visited. If you do this as a group activity, it may be fun to have a display of your Flat Stanleys and their journals and souvenirs. Maybe your post office or library will help you share their adventures and encourage others to create more paper pals.
Tips and Tricks:
To learn interesting ways to fold letters, visit Envelope and Letter Folding.
Although the project is inspired by the character in Flat Stanley, you can name him after yourself. You can even make a Flat Stephanie or a Flat Sarah, and perhaps you'd like to draw him or her to look like you.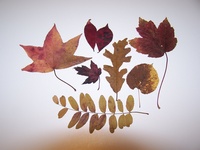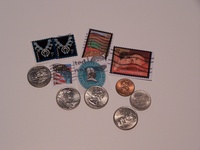 When you're ready to mail your paper pal, include flat, natural objects from your area such as sand dollars or leaves. If Stanley's host lives in a foreign country, he may enjoy receiving coins and postage stamps. Send a drawing of your room or house, or take a picture of your mailman.
Throw a Flat Stanley farewell party. Plan a breakfast or lunch to honor your paper pal before you send him on his trip. Invite your family and friends. What kinds of flat food will you serve? Breakfast foods might include toast, bacon, and pancakes. For lunch, you could serve pizza, cheese and crackers, luncheon meats on pita bread, tacos, or tortillas.
A Note to Teachers: If you prefer to register at the official site, there are many teachers worldwide who will be happy to exchange Flat Stanleys with your students. Go to http://www.flatstanley.com/app/?id=ed_fs to sign up and to take part in the project. In addition, a message board, games, stories, and a place to post artwork are provided.
Check out Flat Stanley from your library or buy the book from your local bookseller. You can also buy the books online at http://www.flatstanley.com/amazon_books_US.html. Read more about the character in the following books: Stanley In Space, Stanley and the Magic Lamp, Invisible Stanley, and Stanley's Christmas Adventure.
On what adventures will you send Flat Stanley? Write us at kidatart@kid-at-art.com to share his experiences and your artwork.
Additional Flat Stanley Art Activities
Thanks to Dale Hubert, creator and moderator of the Flat Stanley Project www.flatstanleyproject.com, for providing general information about the book, how the activity works, and for giving us permission to use the project in this art/reuse activity.
© 2007 Marilyn J. Brackney
Volume 18 No. 4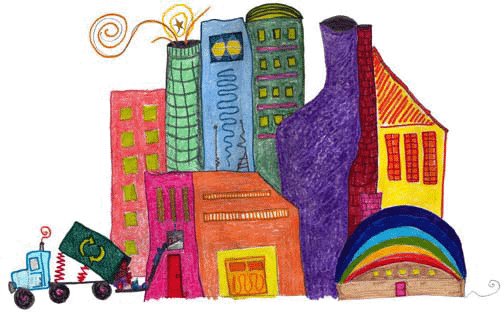 Return to Main Web Page
Previous Activities
Select this to choose other activities.