Make an Uncle Sam Folk Art Figure

When you think of the Fourth of July or Independence Day in the United States, there are many patriotic symbols which come to mind. One of them is Uncle Sam, the long-legged fellow dressed in red, white, and blue. You may have seen this American icon at parades or other gatherings which are held to celebrate the birth of our nation.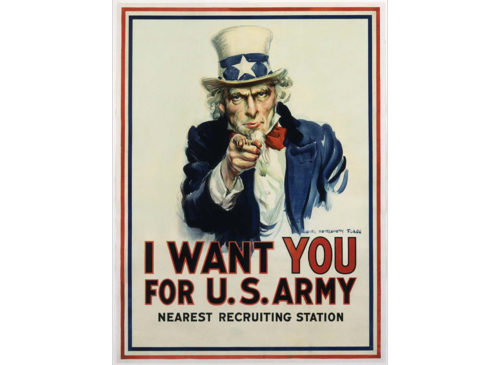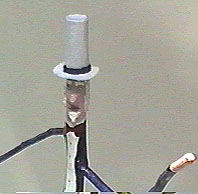 No one is sure how the character came about, but most people think Uncle Sam was named after Samuel Wilson, a Troy, New York meat packer. During the war of 1812, Wilson shipped meat to the U.S. Army in barrels that were stamped with the initials "U.S." Someone joked that they stood for "Uncle Sam" Wilson. Since the shipments came from "Uncle Sam," the nickname stuck, and today the Uncle Sam symbol has come to represent the federal government. The modern image of the character was created by artists and political cartoonists. Perhaps the most famous portrait of Uncle Sam was painted for an Army recruiting poster around 1916 by James Montgomery Flagg.
Ever since his creation, Uncle Sam has been a favorite subject of folk artists. These self-taught artists and craftsmen have used a variety of materials to depict the character, and Uncle Sam has appeared in paintings, drawings, cartoons, and as a three-dimensional figure. Just as folk artists work with whatever materials they can find or have on hand, you can create your own folk art-style Uncle Sam from a fallen twig or branch. Unlike man-made materials, wood left on the ground will biodegrade, causing no harm to the environment. Making art from such materials, however, helps save the natural resources and energy needed to make new or virgin materials.
You will need:

A fallen branch or twig
Block of wood
Scraps of felt
Fabric glue
Acrylic paints
Acrylic modeling paste
Paint pans and brushes
Electric drill
Hot glue gun
Utility knife
How to:
The first step in making a folk art-style figure is finding just the right piece of wood. If you look at a pile of fallen branches or twigs, you'll notice that many resemble animals or people. After you've found a branch or twig that looks like a human figure, have an adult cut away any unnecessary wood from it. Now you're ready to paint the figure. There are many versions of what Uncle Sam looks like, but his clothes are always red, white, and blue to represent the colors in the American flag. Besides being very tall, he's usually dressed in red and white striped trousers or pants, and he wears a white shirt and a blue jacket.
Most representations of Uncle Sam show him with white hair and a goatee, and you can paint them or make them with modeling paste. When the hair and paint are dry, have an adult drill two holes in the wooden base, and use a glue gun to attach the legs to it. Using modeling paste again, form the shoes around the ankles on the base. When the material is dry, paint the shoes, and carefully paint the base red, white, or blue.
Uncle Sam's top hat is made by rolling a rectangle of lightweight cardboard and felt into a cyclinder and then gluing it with fabric glue. Make the brim by cutting a circle in proportion to the rest of the hat, and glue it to the base of the cylinder. Finish by gluing a small circle on top of the form, and add a hat band in a contrasting color. Many folk artists like to include lots of stars, and these are often placed on the band. Attach the hat, and proudly display your Uncle Sam figure. Have a happy and safe Fourth of July, and visit Independence Day on the Net for more ideas on how to celebrate America's birthday.
Tips and Tricks: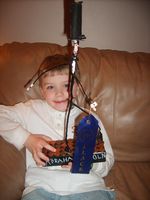 Instead of painting the base, cover it with red, white, or blue felt. To make the stand more interesting, decorate it with lots of small American flags or paint and glue cardboard or wooden stars all around the outside.
When making the figure's shoes, substitute paper clay, papier mache pulp or oven clay for the modeling paste. As with modeling paste, paper clay and papier mache shoes can be formed on the base and painted when dry. Shoes made of oven clay, however, must be baked before fixing them to the base. The figure will be sturdier if the legs are glued through the soles and into the base.
The Abe Lincoln figure on the left was created a few years ago by Ross, of Tennessee. His project won First Place in a kindergarten art contest. Uncle Sam biographical information courtesy of the Uncle Sam Image Gallery, and photo link: University of Houston Libraries.
© 1997 Marilyn J. Brackney (updated 2018)
Volume 7 No. 4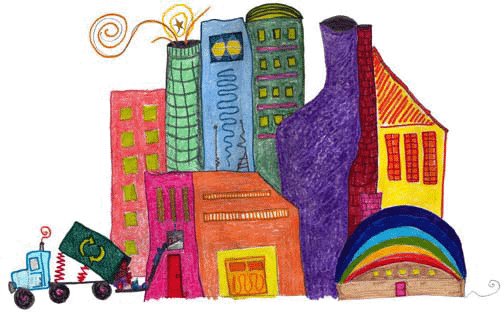 Return to Main Web Page
Previous Activities
Select this to choose other activities.