Snowman Christmas Tree Ornament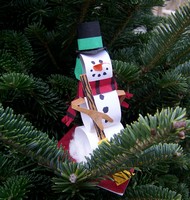 The Christmas season is a busy, happy time of the year for Christians who live throughout the world. Lasting about a month, people prepare for Christmas Day by sending greeting cards to friends and family, buying and wrapping gifts, baking cookies and cakes, and decorating their homes with lights, wreaths, and other ornamentation. It is said that on Christmas Eve, a kindly man, known here as Santa Claus, leaves his home at the North Pole in a sleigh loaded with gifts and toys. Powered by eight reindeer, Santa's sleigh flies all over the world as he makes deliveries to good girls and boys. On Christmas morning, children in millions of homes awake to find toys and presents under their Christmas trees.
But Christmas means much more than attending holiday parties, giving and receiving presents, and singing songs of good cheer. While customs and traditions vary from country to country, and people observe the holiday in different ways, Christmas is celebrated to commemorate the birth of Jesus Christ. Jesus is the source of the Christian religion and Savior in the Christian faith. The day is observed on December 25th by Roman Catholics and Protestants, and it is celebrated on January 7th by members of the Eastern Orthodox Church. Still, symbols of the season abound. Some of them include candles, bells, wreaths, and the Christmas tree.
Decorating evergreen trees with ornaments is a Christmas tradition observed in many parts of the world. The custom is believed to have started in the sixteenth century in Germany. It spread to other parts of western Europe, and Queen Victoria of England adopted the practice in 1840. Today, people all over the world decorate fresh trees and artificial ones with lights and ornaments made of many different materials. Just as with other handcrafted items, people often make ornaments out of whatever they can find in their areas. Sometimes they are made of natural materials such as pinecones and seedpods, but you can recycle to make ornaments, too. You'll have fun, and you'll help save natural resources and landfill space by recycling paper to make a snowman ornament.
You will need: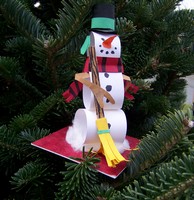 Used, white envelopes
Scrap construction paper
Cotton from medicine bottles
Small twigs (optional)
Pencil
Compass
Scissors
Ruler
Markers
White glue
Masking tape
How to:
This ornament is made of three pieces of paper glued together to make a snowman. To make the head, cut a rectangle about 1"x4" from the envelope. Cut two more rectangles, one 1.25"x5" for the middle and the other 1.5"x6" for the bottom. Roll each paper into a ring, and fasten by gluing. Then glue all three rings together to make the snowman.
Glue on scraps of paper or use a marker to decorate the face and make buttons. Cut a small, thin triangle for the nose. Bend it back at the base, and glue it to the head. Make a scarf by cutting a long, rectangular scrap of paper. Fringe the ends, and decorate with markers or cut paper.
Use scrap paper to make a top hat. Make the hat brim by using a compass to draw a circle 1.5" in diameter. Cut out the shape and set it aside. Cut a rectangle about 1.25"x3.5" for the top of the hat. Make a cylinder by wrapping the paper around and gluing it to itself. Glue the cylinder, on edge, in the middle of the circle. If you wish, glue a small circle to fit on top. Decorate the snowman by gluing on the hat and scarf.
To make arms, glue cut paper or tape small twigs inside the front of the middle ring. Use a twig or a short piece of dowel rod for the broomstick. Fringe a long, rectanglular piece of brown or yellow paper about 2" wide for the broomcorn. Roll it around the stick and glue it shut. Attach the broom to one of the snowman's hands, and glue the broomcorn to the body. Finally, glue the cotton to the bottom of the ornament.
Tips and Tricks:
While any white scrap paper will do for this project, business or legal size envelopes and other mailers are a good length, sturdy, and plentiful. Just watch your mailbox for junk mail!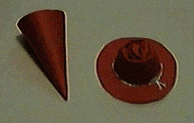 You can make another style of hat by first making a cone. Clip off the top third of the form, and then partially collapse it by gently pushing paper down and into the center. Draw and cut out a circle 2" in diameter for the hat brim. Glue the cone shape in the center to complete the hat. If you wish, trim the hat with a hatband.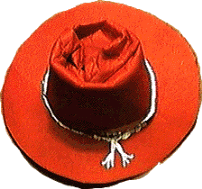 Change the sizes suggested to make bigger snowmen. Use them in place of commercially-made bows to decorate your Christmas gifts. Attach them at the back of the loops so they'll lay flat on the package.
Decorate doors, windows, and tables with snowmen. Group several of varying heights together, or try to make whole families of snow people. To make the figures stand as a table decoration, glue them on the bottom to a piece of scrap white mat board or other heavy material.
Challenge classmates or friends to a snowman ornament-making contest. See who can make the most creative use of scrap materials to decorate the figures. Besides scrap construction paper, look for other things you can recycle. Think small! Try bits of yarn, bottle caps, beads, and other scrap items. Just remember that by recycling waste materials to make art, you are helping to save the earth, and that makes everyone a winner! Merry Christmas!
© 1996 Marilyn J. Brackney
Volume 4 No. 3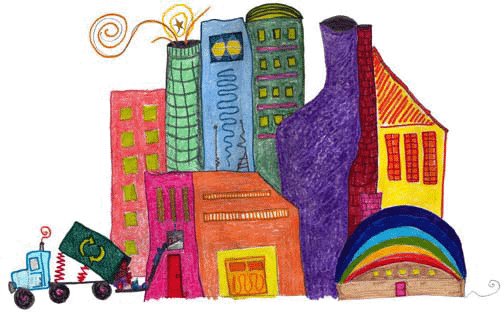 Return to Main Web Page
Previous Activities
Select this to choose other activities.




/body>