When you hear the word "artist," you probably think of someone who paints, sculpts, or makes some other form of visual art. Writers, actors, dancers, and musicians are considered artists, too. Many times the expression of their art or the message they send is not happy. You can probably remember a play or story in which something unpleasant happened, and what the artist wrote made you sad. The writer was trying to make you think or feel.
A painter or other visual artist is no different than the writer who wants to make you think about your beliefs or face your feelings. He or she sometimes will make art which is not pretty, because that may be the only way to express the sadness or concern the artist is feeling.
Pablo Picasso's mural Guernica, which he made during the Spanish Civil War, was painted to show the horrors of the conflict in his homeland. He wanted to make people see how he felt about the war, and perhaps, persuade them to end it. Art is more than a pretty picture!
Most say they care about the environment, but getting them to do something about it is another matter. As with Picasso and other artists, sometimes it is necessary to make art that is disturbing in order to get people's attention and activate them. It is with this in mind that the following project is presented. Remember, art is more than a pretty picture!
America the Beautiful?
Our country is blessed with many natural resources and scenic wonders. Too often, however, we trash our roads, highways, and urban areas with litter. Here's your chance to help solve the problem and make an artistic statement at the same time.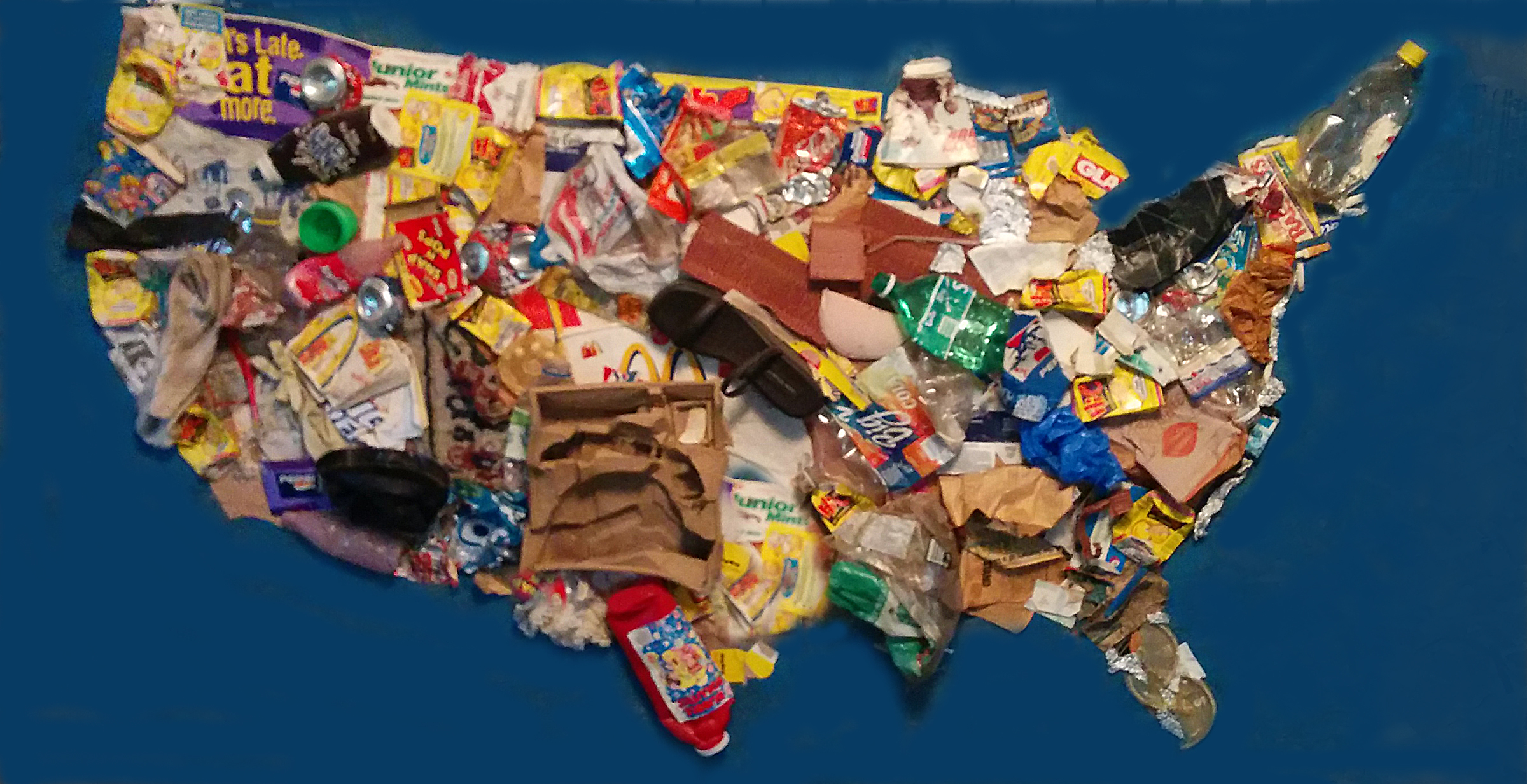 You will need:
Litter or other trash

Background support - like construction paper or cardboard
White Glue
Pencil and eraser

Map of the United States
How To:
Study the shape of the United States on the map. Using a pencil, draw this outline on the background support. Pay special attention to the Great Lakes and states like Florida and Texas whose shapes help identify your finished picture as a map of the United States.
Being careful to follow the shape you have drawn, fill in the outline solidly by gluing the trash you have collected all over the map. Your collage may be displayed with the "America the Beautiful?" title. This will help remind others to keep America clean. Trash is a problem all over the world, so if you live outside the United States, just substitute the shape of your country.
Tips and Tricks:
Look for trash in your school and on your playground. Don't forget your room, desk, even your pockets and school bags. If you work with other people in your class or scout troop, this can be a fun group activity. Draw the map on a large cardboard flat rescued from a refrigerator or freezer carton. Work together to glue on the trash, and display the works in a prominent place for all to see.
Brackney created and introduced America the Beautiful? on the first Earth Day in 1970! Guernica image from English Department at the University of Illinois at Urbana- Champaign.