Bartholomew Consolidated School Corporation Administration Building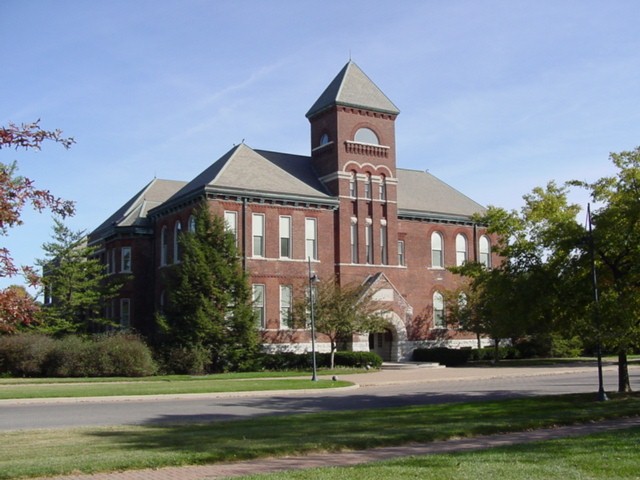 While the focus is on modern architecture in Columbus, people who live here take great pride in historic preservation and finding new uses for old buildings. Garfield Elementary School, which was built in 1896, was preserved and used as part of the corporate headquarters of Arvin Industries.
In 1989, the structure was renovated and expanded with a new addition, which was designed by architect William Browne, Jr. of Ratio Architects. Making up the eastern section of the building, the architect was careful to use similar materials and styles in order to match the new addition with the old school.
When Arvin merged with Meritor to become ArvinMeritor, Inc., the corporate headquarters were relocated to Troy, Michigan. ArvinMeritor made a generous offer to sell the building to the local school corporation. In 2005, it was purchased by the Bartholomew Consolidated School Corporation, and the building now houses the administrative offices, as well as those for the Family School Partner program, and the Bartholomew Special Services Cooperative.
Puddles and Frog Pond by Jo Saylors
We've learned that a sculpture is different from a drawing or painting in that it's three-dimensional, having length, width, and depth. A statue is a sculpture that represents a person or animal. Such figures can be made in a variety of ways, including carving, modeling, and casting.
Types of sculpture are classified as relief and in the round. If the statue projects from a background, such as the figures on the Arc de Triomphe, it's called a relief sculpture, but if one can see the entire figure from all sides, the work is referred to as an in the round sculpture.
Puddles and Frog Pond, an in the round sculpture of two children playing in water and created by Oklahoma sculptor Jo Saylors, is in front of the BCSC Administration Building. The artist also created Crack the Whip, which is located downtown in a grassy area between Second and Brown Streets. The sculptures were cast in bronze, an alloy or combination of copper and tin. Casting metal is done by melting it and pouring the liquid metal into a mold that was created by the artist.
Ms. Saylors began creating art as a child when she sculpted figures from clay dug from creek beds in her native Tennessee. She won her first art competition at the age of twelve, and today her sculptures are found across the United States and in thirteen foreign countries. Although the artist has sculpted many wildlife and historical figures, she's most famous for her representations of children, such as those shown here.
It may surprise you to know that Ms. Saylors began her professional career creating at her kitchen table! Today she works in a well-equipped studio, which includes sculpting tools and anatomical charts that show bones and muscles. Studying the drawings helps her understand the human body, so that she can make her statues lifelike. In addition to a work space, the studio includes a gallery for displaying her sculpture.
Biographical information about Jo Saylors provided by Ponca City Information Site and the Ponca City Sculptor.
Click on the small images to see full size pictures from the BCSC Administration Building grounds.
© 2006 Marilyn J. Brackney
All Rights Reserved
Text and images may not be used
without permission of the author.

Return to a Kids Columbus