kidscommons
columbus' community children's museum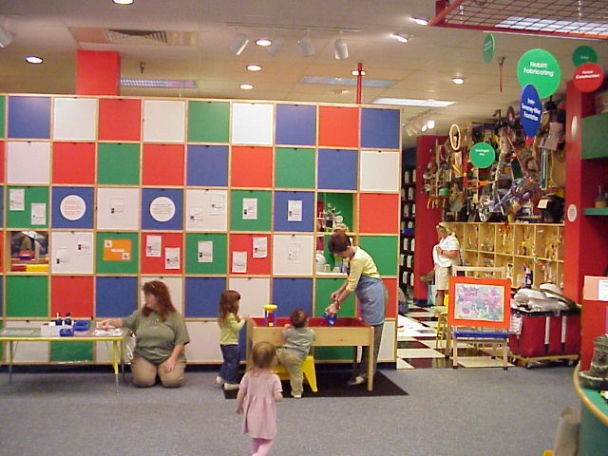 After nearly three years of study and planning, kidscommons was founded in 1998 by a group of Columbus citizens. The museum, which is located downtown in The Commons Centre, is just yards away from Chaos I and The Commons Playground. There's always something going on at kidscommons, and museum educators are on hand to encourage kids to create art or to learn about science and our community. Visitors are welcome to explore the museum on their own, too.
Museum Features and Fun Activities

The bubble tank is one of the most popular areas at the museum. Many kids can take part at one

time, dipping a variety of wands into the giant vat. It's fun trying to see who can make the biggest bubble! .
Columbus Works is a giant assemblage of found objects located on the wall in the art area. A fireman's boot, car muffler, corncobs, hard hat, and even a skeleton's foot donated by an orthopedic surgeon are among the many items that stand for the occupations or jobs that people have in Columbus.

Reuse and recycling play a large part in the art area. Kids draw, paint, and make collages, and they create sculptures and inventions from cast-off materials gathered from local industries.
People from many foreign countries live and work in Columbus, and it's fun for visitors to find their homelands on a large, magnetic map on the back wall. The geography area also features a USA carpet and a "talking" globe.
The energy lab gives kids the chance to experiment with pulleys, levers, gears, and magnets. Science educators use this area to introduce kids to the scientific method.
Manufacturing is important to people who live in Columbus and nearby communities. Workers and their

occupations are honored on giant photos that hang in the materials handling area. Kids have fun using the conveyor belt and pretending that they are processing mail or making pizzas.

In the toddler area, kids can turn pages in a big book to see a country scene and a cityscape. They can rearrange scenes by moving pieces around. Young children learn about textures, colors, and shapes while crawling through a maze of toddler tunnels.

Since architecture is so important to Columbus, it's only natural that kids enjoy playing with building blocks at the museum. This area provides lots of opportunities for "future architects" to design buildings with foam, wood, and corrugated blocks.
In the dress up area, kids have fun trying on costumes that represent the world of work. A fireman, policeman, or soldier play clothes are among the costumes hanging near the giant mirror.
Kids enjoy making music on the colorful pipes of pan in one area of the museum.
Indiana Bones, the resident dinosaur, greets visitors to kidscommons.

An electric train, which bears the names of the major sponsors that helped create kidscommons, runs on a track overhead, and colorful Yo-yos that are made in Columbus hang from the ceiling.
In addition to these museum features, kidscommons offers many outstanding activities throughout the year. Some of them include hosting Telescopes at Twilight with local astronomers, sponsoring a farm animal petting zoo with The Commons Centre, holding special Earth Day activities, and teaching kids about gardening through the Dirt Diggers program. In 2000 kidscommons sponsored the American division of the Living in the Mirror Mail Art Show.
kidscommons Special Uses
Kidscommons is available, after hours, for private parties, birthdays and other special occasions.
Brownies and Girl Scouts can work on badges at the museum. The staff is well qualified to help kids learn the skills necessary to earn the awards.
Preschool classes and kids who are enrolled in childcare facilities are welcome to schedule field trips to kidscommons. Specially designed 90-minute programs are available for three to five-year olds.
Science Outreach programs are available at the museum or in the classroom for grades K-6. Teachers present quality, hands-on science instruction in an entertaining and fun way. The subject matter covered includes topics such as the human body, electricity, bubbles, volcanoes, recycling, and earthquakes.
Hours of Operation
10:00 A.M.-5:00 P.M. Thursday and Saturday
10:00 A.M.-8:00 P.M. Friday
1:00 P.M.-5:00 P.M. Sunday

The museum is open Tuesday and Wednesday by appointment for school groups. Kidscommons is closed Mondays, Easter, Thanksgiving, Christmas Eve, Christmas Day, and New Year's Day. A small admission is charged for adults and children, but those under two are admitted free. For more information about the museum and kidscommons programs, phone 812-378-3046 or visit the kidscommons Web site.
Click on any of the small images below for a larger version.
© 2001 Marilyn J. Brackney, All Rights Reserved (updated 2018)
Text and images may not be copied
without permission of the author

Return to a Kid's Columbus